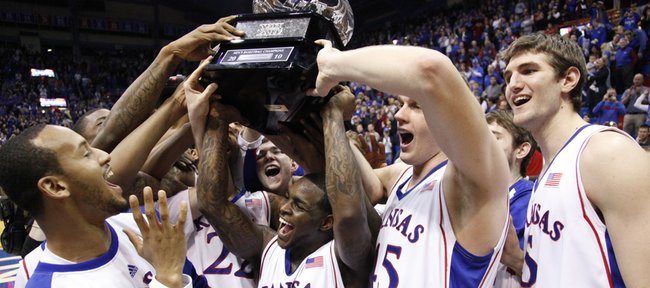 10:20 p.m.
Following the game, Aldrich was honored as Academic All-American of the Year, and after a celebratory video, KU's players were presented with the Big 12 championship trophy. Collins, holding it up with both hands, took it to the locker room.
KU scoring — Xavier Henry 23 (9-for-13 shooting), Collins 17 (5-for-12 shooting), Taylor 11, Marcus Morris 10, Aldrich 7, Markieff Morris 5, Robinson 4, Morningstar 2, Reed 2.
KU was 30-for-58 from the floor (51.7 percent), 5-for-10 from three (50 percent) and 16-for-23 from the free-throw line (69.6 percent).
OU was 26-for-63 from the floor (41.3 percent), 6-for-20 from three (30 percent) and 10-for-14 from the free-throw line (71.4 percent).
KU out-rebounded OU, 39-33. OU had nine turnovers, while KU had six.
KU defeats OU, 81-68
OU can't miss late in this game. Mason-Griffin puts in a two with a foul. Crocker gets a jumper with a foul. Mason-Griffin follows with a three.
Luckily for KU, Xavier Henry breaks up OU's points with a three-point play of his own. Otherwise, this one would have gotten closer than the Jayhawks might have wanted.
KU ends the game with three consecutive offensive rebounds, running out the clock for a 13-point victory.
KU 74/OU 62 — 3:37 left in game
Markieff Morris hits a 14-footer off the glass, but Davis answers with a tough fallaway jumper over Marcus Morris. OU has made some tough, tough shots in the second half to keep this one from getting too out of hand.
Steven Pledger hits a three over Collins, and OU has trimmed the lead to 14. Self calls timeout with OU on a 10-2 run, and this whole second half has lacked energy from KU's players and fans.
KU 72/OU 50 — 7:20 left in game
Aldrich gets his offense going after the break, putting in a left-handed layup followed by a short shot inside. He's also fouled the next time down the floor, making a free throw to give him five straight KU points.
KU 64/OU 44 — 10:30 left in game
It's been too easy for KU with dribble penetration. Marcus sets a screen for Collins, and literally no Sooner steps up to defend one of the best driving guards in the country. Collins simply takes it straight to the rim and finishes with a layup.
Morningstar drives under the basket, but his layup attempt is blocked by the bottom of the rim. The guard is able to deflect the rebound back to Collins, though, and the senior knocks in a three from the right side. A bit of the swagger comes back too, as Collins thumps his chest twice. He's made three of four shots this half and now is 5-for-11 from the floor today.
More poor defense by OU. Robinson sets a ball screen for Reed, who dribbles all the way to the rim for a layup. Someone has to step up defensively for the Sooners to stop the basketball.
Some KU fans pack up their coats to leave. I guess watching a Big 12 trophy presentation isn't a strong enough draw to stick around.
KU 56/OU 33 — 15:32 left in game
Xavier Henry with a pass over the top, and Marcus Morris snatches it away to make sure it isn't stolen. The sophomore finishes with an uncontested layup. That hasn't always been an easy shot for him this year.
Xavier misses his first shot of the game, as his stickback try is blocked from behind. That's kind of a lousy way to lose a perfect night, if you ask me.
KU 52/OU 31 — 17:15 left in game
Taylor with two good offensive plays to start the half. After getting an outlet pass, he zips a pass to Collins, who is fouled on a layup attempt. The next time down, Taylor takes his man to the basket, sprinting across the basket before putting in a quick layup from the left side of the rim.
It's all going in for Xavier Henry tonight. He puts up a guarded 19-footer, and the ball bounces hard off the rim, then off the backboard and the rim again before falling through.
Collins curls around an Aldrich ball screen and swishes a 14-footer. Good sign for KU.
Capel calls timeout, as KU has opened the second half on an 8-2 run.
KU scoring — Xavier Henry 18 (7-for-7 from floor, 2-for-2 from three, 2-for-2 from the free-throw line), Collins 7 (2-for-7 shooting), Taylor 5, Marcus Morris 4, Robinson 4, Aldrich 2, Markieff Morris 2, Morningstar 2.
KU was 18-for-32 from the floor (56.3 percent), 4-for-5 from three (80 percent) and 4-for-4 from the free-throw line (100 percent).
OU was 10-for-33 from the floor (30.3 percent), 2-for-10 from three (20 percent) and 7-for-9 from the free-throw line (77.8 percent).
KU out-rebounded OU, 20-18, in the first half. Both teams had six first-half turnovers.
Halftime thoughts
• Well, one Jayhawk has busted out of his Big 12 slump. Xavier Henry looks every bit of a one-and-done now, and not just offensively. He's crashed the boards for four rebounds and also has been focused defensively.
• I think it's officially time to start worrying about Collins' shooting. The rest of his game was OK offensively (four assists, two turnovers), but at some point, he's going to have to shoot better than 30 percent from the floor. KU might be best losing the high-ball screen and instead just letting Collins take the overmatched Mason-Griffin all the way to the basket.
• OU's defense was about as bad as I tried to advertise. But still, it feels like KU should be up by more than 15.
• Twenty-four of KU's 44 points were from in the paint. That tells me if KU works the ball enough, it has been getting easy looks.
• Encouraging minutes for Thomas Robinson with four points and two rebounds. If he's just able to relax on the court and not try to make something happen on every single play, he might be able to provide a spark for KU off the bench in the postseason.
KU 44/OU 29 — Halftime
Collins puts in a guarded three, but unlike his uncontested shots earlier, this one goes in.
Marcus Morris once again takes his man inside, finishing with a turn-around in the lane. That's a tough move for anyone to stop.
KU is getting beat defensively by poor rotations. Following ball screens, the Jayhawks are double-teaming the ball-handler but aren't able to get back to their original men. A few quick passes from OU, and Crocker puts in a three.
Xavier isn't cooling down, though, as he hits a long three from the right side. He's now 6-for-6 for 16 points.
KU gets it to its hot hand, and Xavier deilvers, hitting an 18-footer around a screen. Make it 7-for-7 for the freshman.
Collins puts in two free throws in the final seconds, and KU takes a 44-29 lead into the break.
KU 32/OU 21 — 3:36 left in 1st half
Xavier Henry with a block on Crocker on one end, then a drive to the hoop for a layup on the other end. OU is doing nothing to stop KU's dribble penetration in this game.
Cade Davis cuts to the basket, putting in a layup with a foul, and following a Taylor miss, Gallon puts in a short shot in transition. Self calls timeout.
The break doesn't help. Collins turns it over when his pass is deflected, and Crocker follows with a dunk on the other end. Morningstar misses a contested three, and Davis pops in an unguarded three to push OU's run to 10-0. Self calls his second timeout in 47 seconds.
Xavier Henry ends the drought, putting in a three from the right side. Give the assist to Marcus Morris.
KU runs in transition after another OU miss, and Xavier puts in a tough shot off the glass with a foul. Henry has 13 points on a perfect 5-for-5 shooting.
KU isn't taking care of the ball well in this one. An Aldrich travel gives KU six turnovers already. OU is forcing just 10.8 turnovers per game this season.
Crowd has been dead today, as I'm sure you've been able to tell.
KU 24/OU 9 — 7:59 left in 1st half
Reed penetrates around a screen before pitching to Tyshawn Taylor for a three that swishes through.
Markieff Morris picks up his second foul, and Self checks in Thomas Robinson.
Collins misses a shot, but Robinson hustles to save it from going out of bounds. After taking a dribble, the freshman puts in a layup. The crowd gives him a nice ovation.
KU has been giving Collins high-ball screens when he's been defended by Mason-Griffin, but honestly, I don't think Collins needs them. Mason-Griffin isn't a great defender, and the screen seems to just bring more traffic that Collins has to dribble around.
Speaking of Mason-Griffin, he tries a behind-the-back pass that dribbles out of bounds. Capel calls timeout.
Collins drops a pass inside for Robinson, who pivots a few times before putting in the short jumper off the glass.
Collins curls around a screen and is wide open, but he misses the 15-footer. He just can't buy a shot. After a KU steal, Collins misses a contested layup before Taylor tips it in. Collins is just 1-for-5 from the floor.
KU 15/ OU 6 — 11:14 left in 1st half
Another miss by Tommy Mason-Griffin. OU's Tiny Gallon makes things worse for the Sooners with a silly over-the-back foul trying for the rebound. That's two fouls on Gallon, and he's one of OU's only threats for boards inside.
Fitzgerald finally puts in a 14-foot jumper at the 13:21 mark for OU's first points of the game.
Aldrich answers immediately, fighting for position before putting in a short hook shot. He hasn't missed many (or any) hook shots in the last two games.
Collins with a nice move in the lane, splitting two defenders before putting in a scoop shot off the glass.
Nice pass over the top by Tyrel Reed, and Markieff Morris slams it home for the easy two.
KU 7/ OU 0 — 14:54 left in 1st half
KU wins the tip, but Aldrich has a shot on an up-and-under move slapped away. The big man tries to grab it, but he fumbles it out of bounds.
Marcus Morris hits a baseline jumper over a defender for KU's first points.
The Jayhawks are unselfish with it early. Marcus Morris, Sherron Collins and Xavier Henry all pass up shots before Xavier slashes to the lane and puts in a layup with a foul.
Oklahoma looks rushed on its first few offensive possessions. The Sooners are one of the slowest-tempo teams in the Big 12, but that hasn't been the case so far.
Cole Aldrich picks up an over-the-back call, and KU coach Bill Self checks him out quickly to try to avoid the big man's second whistle.
Following a miss by Andrew Fitzgerald, OU has started this game 0-for-8 from the floor with three turnovers.
8:09 p.m.
For a few seconds, the pregame video didn't appear on the videoboard. It reappeared a few ticks later. The KU fans rejoiced.
7:23 p.m.
Our pregame chat is open. I'll be talking there until gametime.
Just a reminder to use the "Submit a question" link to post a score prediction, to submit a comment or to ask a question.
Today's random question: What is your first-team All-Big 12 roster as of today?
7:05 p.m.
Welcome back to the Newell Post Live, coming to you from Allen Fieldhouse where the No. 1 Kansas Jayhawks are getting set to take on the Oklahoma Sooners.
Part of coaching is trying to exploit an opponent's weaknesses to try to give your team the best chance to win.
So, if you were an opposing coach, how would you attack the Jayhawks' offense?
It's an interesting question to think about. Would you use a zone? Would you double-team Aldrich? Would you double-team all KU's post players? Would you have your players pay special attention to Sherron Collins? Would you try to guard the perimeter well to try to force KU to beat you from the inside?
Perhaps one of the greatest strengths of this year's KU offense is that there really is no correct answer. A quick look at the statistics on KenPom.com back this up.
• The Jayhawks score 26.9 percent of their points from the three-point line. The national average is 27.0 percent.
• The Jayhawks score 52.2 percent of their points from two-pointers. The national average is 52.0 percent.
• The Jayhawks score 20.9 percent of their points from the free-throw line. The national average is 21.0 percent.
What does this tell us? Well, the Jayhawks are extremely balanced in their scoring. There isn't one strong area (two-pointers, three-pointers or free throws) that you can try to eliminate to take Kansas out of its offensive game.
Just for reference, here are the splits for the other top 10 teams in the AP poll.
• National average — 27.0 percent three-pointers, 52.0 percent two-pointers, 21.0 percent free-throws.
• Kentucky — 23.4 percent three-pointers, 55.1 percent two-pointers, 21.6 percent free-throws.
• Purdue — 22.6 percent three pointers, 55.1 percent two-pointers, 22.3 percent free throws.
• Syracuse — 24.4 percent three pointers, 57.4 percent two-pointers, 18.2 percent free throws.
• Duke — 29.4 percent three pointers, 48.7 percent two-pointers, 21.9 percent free throws.
• Kansas State — 25.4 percent three pointers, 49.4 percent two-pointers, 25.2 percent free throws.
• Villanova — 27.5 percent three pointers, 48.8 percent two-pointers, 23.7 percent free throws.
• West Virginia — 29.6 percent three pointers, 49.8 percent two-pointers, 20.6 percent free throws.
• Ohio State — 29.5 percent three pointers, 52.3 percent two-pointers, 18.2 percent free throws.
• New Mexico — 31.2 percent three pointers, 45.4 percent two-pointers, 23.4 percent free throws.
We'll have our pregame chat later, but for now, be sure to vote in our poll on the left and also use the hashtag #kubball to have your Tweets show up in our grid on the left.