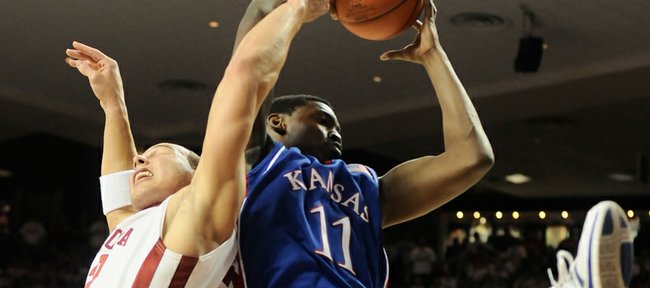 Collison witnesses Cole's effort
Kansas University sophomore Cole Aldrich's 20 rebounds passed his old career high of 18 set against Oklahoma State on Feb. 7.
It seems Aldrich was pumped up to hit the boards hard after seeing a former KU great and current Oklahoma City Thunder player sitting in the stands.
"I saw Nick Collison in the crowd behind the bench, and I thought I'd go for every rebound. I had to knock Quintrell (Thomas) out of the way for one of them," Aldrich said with a laugh.
"I knew I had a lot of rebounds at halftime and said, 'I'll try for it and go after every rebound.'''
"It" was Collison's 23-rebound effort against Texas on Jan. 27, 2003.
"They're playing great, especially Cole. He's really doing a great job," gushed Collison, who gave KU coach Bill Self a hug after the game.
Collins honored
Kansas University's Sherron Collins and Oklahoma State's James Anderson on Monday were named Big 12 co-players of the week. Oklahoma's Willie Warren was named rookie of the week.
Collins, who has snared the honor twice this season, averaged 22 points in victories over Iowa State and Nebraska. He hit 17 of 29 shots (58.6 percent), including six of 10 threes. He also had 10 assists against no turnovers.
On Griffin:
OU coach Jeff Capel wanted it made clear that OU's medical staff made the decision to sit Blake Griffin (concussion) on Monday night.
"Blake would play if it was left up to him," Capel said. "He wanted to come back in the second half the other day (after suffering concussion in first half at Texas). He wanted to give it a try. You don't want to mess around with anything like this."
Capel said he didn't think any teams in the future would try to pop Griffin in the head to gain a competitive advantage.
"I hope not. You are talking about someone's career, someone's future," Capel said. "I think it'd be a pretty crappy person or coach or player that would do that. You have to continue to play hard and do what you do. I certainly don't think anyone in our league especially would go out of their way to inflict more damage or something like that."
As far as past teams' treatment of Griffin in the paint, Capel said: "I don't think anybody in our league has been particularly dirty. There have been hard fouls. That's part of basketball. I don't think anybody in our league has been with the exception of maybe one game been malicious or anything with any intent to cause damage or hurt him."
What game was that, coach?
"No comment," Capel said.
Stats, facts
KU is 12-1 in the Big 12. It's KU's best conference 13-game record since the 2001-02 team went 16-0 ... KU has won at least 12 conference games for nine straight seasons. ... KU has won five straight versus OU. ... OU had a 19-game homecourt win streak snapped. OU had won 10 straight league games at home. ... KU is 15-15 at Noble Center. ... Oklahoma, at No. 3 in the AP poll, was the highest ranked team KU has beaten this season and the highest-ranked since beating Memphis (No. 2) in last year's National Championship game.
More like this story on KUsports.com