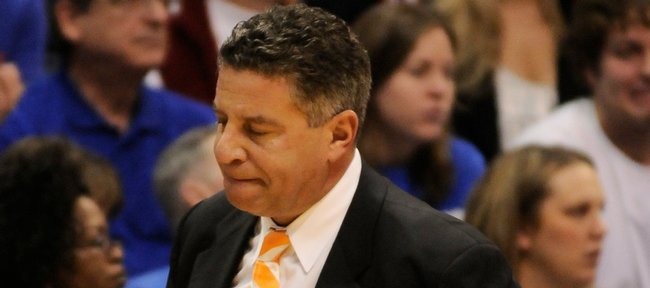 Rocky Top encountered a rocky stop on the road Saturday afternoon.
The 14th-ranked Tennessee men's basketball team, traveling to a crammed and rowdy Allen Fieldhouse, surrendered more points to an opponent than in any game this season in a 92-85 loss against Kansas University.
It's still debatable whether the Volunteers even showed up for the first nine minutes.
The Vols, looking like they left their intensity in Knoxville, allowed either a dunk or layup on each of the Jayhawks' first seven field goals. When Tennessee headed to its bench for the second TV timeout, it trailed, 25-9, with 11:18 remaining.
Volunteers coach Bruce Pearl said he thought KU's young team might be vulnerable to Tennessee's pressure. But the Vols' poor start boosted the Jayhawks' confidence and did little to dull the raucous crowd. At tipoff, the computer noise-monitoring system on the floor of the gym's south end registered 94 decibels — a level loud enough that sustained exposure would result in hearing loss.
"You can't win on the road starting the way we started," Pearl said. "You just can't. It just doesn't set the tone."
Tennessee, which never held a lead, began the game a miserable 4-for-16 from the field. That problem was compounded by its defense, which helped KU to a blistering 11-for-16 start.
Vols players insisted they weren't rattled. They were just terrible.
"You never plan to come out and get in a hole like that," said forward Tyler Smith, who paced the Vols with 21 points and nine rebounds. "But it's something that happened. And that's the something that happened to us the last few away games. That's something we've got to control, and that starts off with our defense."
The Volunteers were particularly impressed with the play of Kansas guard Sherron Collins, who scored 26 points and dished nine assists.
"We really didn't have an answer for Collins," Pearl said. "Collins did whatever he wanted out there, and that was a factor."
Said Vols 6-foot-9 center Wayne Chism: "I think the team fed off him. If we ran to him, he kicked it out and got people open shots."
A full-court press and better shooting touch helped Tennessee hang around in the second half. The Vols shot 1-for-11 from three in the first half but 8-of-15 in the second. The final triple occurred when Chism banked in a three-pointer with 12 seconds left, drawing the Vols within 91-85. It was the closest they'd been since guard Cameron Tatum's steal and layup cut the Vols' deficit to 14-9 just five minutes into the contest.
Tennessee fell to 9-3 and had its three-game winning streak snapped.
Pearl wasn't surprised.
"Look, Kansas is an NCAA Tournament team," Pearl said. "It's hard to win on the road against NCAA Tournament teams."
Chism scored 17 points. Bobby Maze added 14, Scotty Hopson 11 and Tatum 10.
Kansas (10-3), which had not produced a so-called signature nonconference victory thus far, finally penned one against a nationally ranked opponent Saturday.
"They needed it," Smith said. "And they came out and got what they wanted."
More like this story on KUsports.com