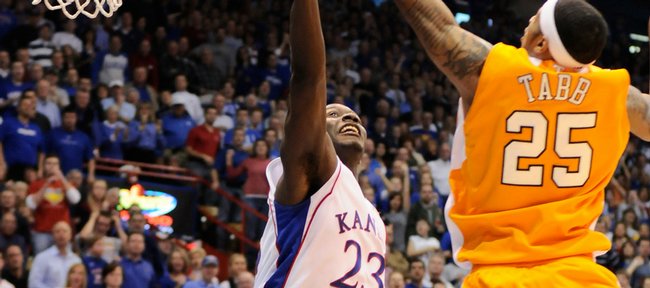 Markieff Morris noticed something funny about Mario Little as Little, Kansas University's junior-college transfer, was about to leave the locker room for pregame warm-ups.
"He put his compression shorts on. He put his sneaks on and was on his way walking out. I was like, ''Rio, where you going without your shorts?'" Markieff said with a laugh. "He was like, 'Oh.'"
In his first game as a Jayhawk, Little had forgotten one of the essentials.
He said his teammates wouldn't let him live it down.
"I forgot to put my shorts on, so they were saying I was nervous and all that, but I really wasn't," Little said with a smile after KU's 92-85 victory over Tennessee on Saturday in Allen Fieldhouse. "I just forgot to put my shorts on."
Little, who hadn't played yet this season because of a stress fracture in his left leg and also a broken left hand, logged 10 minutes. Though he didn't score — missing all three of his field-goal attempts — he did contribute five rebounds and two assists.
"When he gets more confidence, he's going to get better," said KU coach Bill Self, who said he made the decision to play Little on Saturday morning.
"The big key on him is going to be how he feels (today). This is the first time he's tested it (left leg) at a level that he's probably not thinking about it. We need him."
Little appeared to still be hobbled a bit while in the game. At times he was limping and also favoring his left leg.
There was a reason for that, he said. On one play, when he was trying to save a ball from going out of bounds, he tweaked his leg injury.
"I must have came down wrong. That's what it really was," Little said. "It's cool once I settle down, sit down for maybe two, three minutes. It gets better."
Tweaking the injury hasn't been uncommon. Little said that the same thing had happened a few times in practice, and after resting his leg had improved.
Little also was playing with a padded glove to protect his left hand. Though he wasn't sure how long he'd have to wear the glove, he appreciated the extra support it gave him.
"It's not really affecting my shooting, because I've been working on shooting with one hand anyway — my guide hand," said Little, who is right-handed. "It wasn't really messing my shot up. It was just me missing."
At times, Little — he said he had an inkling he'd make his debut Saturday since he'd practiced full-speed all week — looked a bit confused on the court. Self took part of the blame. Because of his team's foul trouble, the coach said during one stretch he put Little in a position on the floor that he hadn't practiced yet.
On another possession, Little misunderstood a defensive call and tried to play zone when his other four teammates were playing man-to-man. Self just chuckled about it on the sideline.
Little, though, was most disappointed that he didn't score.
"I was just itching — I was really, really wanting to score at least one basket," Little said. "But I'm good. We won."
Morris, who said that he and Little talk frequently, tried to give his friend some advice before his first game. He told Little not to rush shots and just to let the game come to him.
Perhaps his best advice, though, came right before the game — when he suggested that Little put his shorts on.
"I almost let him go out without them on," Markieff said. "Me and 'Rio are real cool, so it was just a nice little joke."
More like this story on KUsports.com