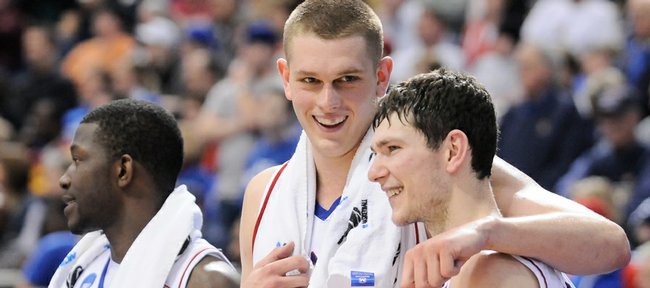 Minneapolis — Walter Aldrich adjusted his glasses.
His vision was blurred Sunday afternoon as he attempted to watch a CBS-TV reporter interview the star of Kansas University's 60-43 second-round NCAA Tournament victory over Dayton.
That would be his son — hometown hero Cole Aldrich.
"Grown men aren't supposed to cry," Walter Aldrich said, his eyes welling with tears as he stood in front of his fifth-row seat in the Hubert H. Humphrey Metrodome.
Yet he couldn't help but be gripped by emotion on on a day his son recorded the first official triple-double in KU history.
Cole Aldrich, KU's 6-foot-11, 245-pound sophomore center from nearby Bloomington, grabbed a career-high-tying 20 rebounds, blocked a school-record 10 shots and scored 13 points in 31 exceedingly productive minutes.
"He'll be in the record books forever," Walt Aldrich said, "at a school with Wilt (Chamberlain), (Danny) Manning, (Nick) Collison.
"I'm pretty proud of him."
The triple-double was the sixth in NCAA Tournament history — first since Marquette's Dwyane Wade scored 29 points with 11 rebounds and 11 assists in a 2003 regional final versus Kentucky, also at the Metrodome.
It's the second point-rebound-block triple-double in tourney history, the other a 26-point, 13-rebound, 11-block effort from LSU's Shaquille O'Neil in a 1992 first-round game against Brigham Young.
"I couldn't write it any better. No Hollywood writer could write it any better," Cole Aldrich said, realizing he accomplished the feat 10 miles from his childhood home.
"This is huge," added Aldrich, who appeared as huge as a skyscraper in the paint in helping hold the Flyers to 22.2 percent shooting and just 43 points — the lowest total scored against KU in an NCAA Tournament game since Ohio's 38 back in 1985.
"Fortunately they didn't count blocks when Wilt Chamberlain was here or he'd have had 15 of them."
The official list of triple-doubles dates to 1986, when steals and blocks were added formally as statistics. The Journal-World's Bill Mayer several years ago uncovered at least a pair of Chamberlain triple-doubles — against Marquette in 1956 and Colorado in '57.
"It's great to be part of KU history," Cole Aldrich said.
His 10 blocks tied for second-most in a NCAA Tourney game. LSU's O'Neal had 11 against BYU in 1992 and BYU's Shawn Bradley 10 against Virginia in '91.
"I kind of wish I had Shaq's phone number to give him a call about now," Aldrich joked.
He held court with reporters in a giddy winner's locker room. Several print and TV scribes from Minnesota media outlets recorded his every word.
"I had a few in high school," Aldrich said, recalling previous triple-doubles. "I had 27 (points), 19 (rebounds) and 14 (blocks) one game my sophomore year."
The Jefferson High graduate confessed that his blocked-shot total pleased him the best.
"I've been blocking them since I was a little kid. I was 6-foot in fifth grade. I had a little height advantage," Aldrich said. "That's the one thing I try to do if guys get beat (in the lane). I just try to go up there and block 'em."
Aldrich's 10th block is the one that assured him KU's first triple-double.
He swatted an attempt by Dayton forward Chris Wright (10 points, 4-of-16 shooting) with 5:45 to play.
"I didn't know until the end of the game," said Aldrich, who didn't hear the fans' chants of "triple-double, triple-double" behind the Jayhawk bench.
"I got the news when Matt Kleinmann subbed in for me (with 1:20 left). Some of the guys said, 'I think you've got it.' I said, 'Got what?' They said, 'A triple-double.' I couldn't quite believe that."
KU's players didn't find it difficult to believe at all.
"I'm so proud of him. He's been playing this way all year," said Aldrich's roommate, sophomore Tyrel Reed, who just so happened to hit one of the game's biggest shots — a three-pointer that opened a 9-0 run. That run stretched a narrow 35-30 lead (at 13:59) to 44-30 (at 8:33).
"For Cole to get this on the biggest stage ... it's awesome for him to do it in his hometown," Reed added.
"I know Cole being back home ... he felt he had to do it," noted freshman guard Tyshawn Taylor, who had a rough day with six turnovers, three assists and three points.
Aldrich said he felt no pressure to play well back home in Minnesota. He did feel pressure for his team to survive two games and advance to next Friday's Sweet 16 in Indianapolis.
No. 3 seed KU will meet No. 2 seed Michigan State approximately 8:45 p.m. Central time in Lucas Oil Stadium.
"I told the guys I wanted to leave Minnesota with a smile on my face," Aldrich said.
His effort had sixth-year coach Bill Self beaming.
"It's pretty cool," Self said of Aldrich triple-doubling in his hometown.
"I told the guys afterwards, and they said, 'Ah, come on, Wilt had to have had triple-doubles.' But they didn't keep blocks back then. The most impressive thing to me today was his rebounding and blocks. He got a lot of blocks standing on the ground, probably three or four. That's pretty smart considering you have smaller guys trying to shoot it over him," Self added.
As effective as Aldrich, team leader Sherron Collins exploded for 25 points off 11-of-19 shooting, grabbed seven rebounds and dished two assists against no turnovers.
"Cole's performance will go down — because of the stage — as one of the best individual performances we've had. But we've not had a guard play as well over an entire weekend as Sherron," he added of Collins, who scored 32 points with eight assists and just two turnovers in a first-round victory over North Dakota State.
Dayton had no answer.
The Flyers hit nine of 40 shots the first half (22.5 percent) and seven of 32 the second (21.9). KU, which struggled offensively as well, used a 22-6 surge to up the score to 57-36 with two minutes to play.
Collins had nine and Reed seven points in that stretch.
"I thought it was a toughness game, a loose-ball game, and I think Dayton is about as good as anybody we play in that area," Self said. "They didn't make shots at all. We didn't either. But for us to hang in there and play like we did the second half, I'm really proud of these guys."
The Jayhawks improved to 27-7. Dayton finished the season 27-8.
"See you in Indianapolis," Self said in his parting words to the media.
More like this story on KUsports.com