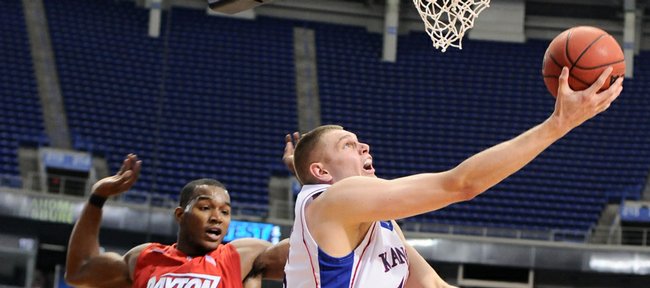 Minneapolis — Saving the most dominant basketball weekend of his college career for his hometown fans, Cole Aldrich led Kansas University into the Sweet 16 by registering the first official triple-double in school history Sunday in the Metrodome.
A 6-foot-11 sophomore center from Bloomington, Minn., Aldrich totaled 13 points, 20 rebounds and 10 blocked shots to lead the Jayhawks to a 60-43 victory against Dayton in an NCAA Tournament second-round game.
Sherron Collins also had a standout game for KU, scoring 25 points and playing 35 minutes without a single turnover.
"I wouldn't have had it anywhere else than being at home," Aldrich said of his historic game. "I think that's kind of one thing that got me amped up more, was just seeing familiar faces in the crowd. And I know these guys really wanted to come out of Minneapolis with big smiles on their faces. Not only for me, but for the whole team because that means that we're going to the Sweet 16."
Kansas coach Bill Self said his players were surprised to hear that Aldrich's triple-double was the first in Kansas history, but were less surprised when informed that blocked shots were not an official statistic when Wilt Chamberlain played at Kansas.
Blocked shots have been recorded for Aldrich's entire life and he has kept statisticians busy. "I've been blocking shots since I was a little kid," said Aldrich, who had eight dunks in a first-round victory against North Dakota State. "I was 6 foot in fifth grade, so I had a little height advantage."
Kansas resumes its national title defense Friday in Indianapolis against Michigan State, a 74-69 winner against USC. This is the third consecutive Sweet 16 appearance for Kansas and the 26th in school history.
More like this story on KUsports.com