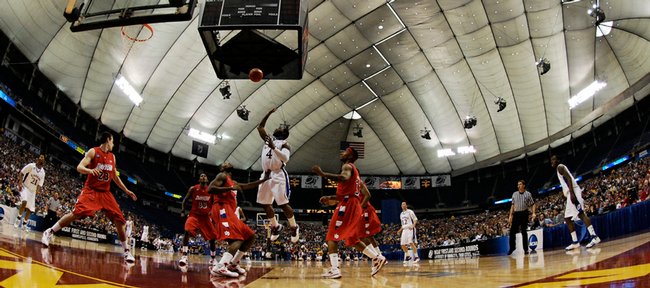 Appleton perseveres
Kansas University's 60-43 victory over Dayton put a smile on the face of junior guard Tyrone Appleton, who has been mourning the loss of his buddy Dennis Williams, who was murdered late last week in Gary, Ind.
"It's been tough, real tough," Appleton said after scoring one point versus the Flyers.
"He's one of my closest friends. I talked to him an hour before he died. He always told me to give my best no matter how much time I get, whether it's 30 minutes or 30 seconds. I'll never forget the things he told me. I'll keep him in my head as long as I live. He'll always be in my mind."
Appleton, who played six minutes in Friday's victory over North Dakota State, flew back to Indiana following the game.
He attended his buddy's funeral Saturday afternoon and was back in Minnesota by 8:30 Saturday night.
"It was tough going back home, flying back, waking up today to play the game," Appleton said. "I'm just so happy we won. Sherron (Collins) and Cole (Aldrich) were great, and now we move to the Sweet 16. I'm looking forward to going to Indianapolis."
On to Indy
KU advances to the Sweet 16 in Indianapolis, where the Jayhawks will take on Michigan State at 8:45 p.m. Friday.
The Spartans beat KU, 75-62, on Jan. 10 in East Lansing, Mich., in KU's final game of an 11-4 nonconference season.
"I think everybody in the locker room wants to play Michigan State because we feel like we have something to prove," KU freshman guard Tyshawn Taylor said. "They beat us pretty bad the first time, and we are a totally different team. We will be hungrier this time around."
"We are definitely looking for a little redemption," freshman forward Markieff Morris said. "They are a team like Dayton, but they shoot the ball better."
Noted Mario Little: "The last time we played them we came out OK in the first couple possessions, then let it slip away. We need to make sure we stay focused on the defensive end and execute."
Michigan State senior Travis Walton said the first matchup has nothing to do with this one.
"We are different now. They are, too," he said. "They are playing great basketball. They always find a way to get things done and to get a win. Both teams will play hard just like the first game. It should be a great game."
Tough D
KU's Brady Morningstar took his turn guarding Dayton's Chris Wright, who missed 12 of 16 shots and scored 10 points with nine boards in 28 minutes.
"You can close out on shooters long, and you feel like if they drive, Cole will block the ball or contest the shot. He helps a lot. He's so dominant in the paint," Morningstar said.
Dayton hit just 16 of 72 shots for miserable 22.2 percent. The Flyers made four of 19 threes.
"I guess their flight team, or whatever they call it, wasn't flying," KU's Collins quipped, referring to the athletic Flyers faring so poorly offensively.
Flyers' guard Mickey Perry shook his head when asked about the offensive woes.
"It was their defense to a certain extent," Perry said. "They did defend well, and I thought we defended them well, too. Our shot selection was so poor that it enabled us to not be in proper defensive position to get back and stop easy breaks."
KU coach Bill Self's take? "Our defense was pretty good but we also were fortunate because they missed some shots," Self said.
In good shape
Aldrich was asked in the interview room about his physical conditioning now compared to high school.
"Junior year of high school, the most I weighed was 263," Aldrich said. "I came in as a freshman in the beginning of the summer at 254, 255ish and had a 14.9 percent body fat, and now I am 235, 240 with a 6.5 percent body fat."
"Anything else you want to tell them?" KU coach Self said, drawing laughter from all involved.
Poor charity work
KU won going away despite hitting just 11 of 22 free throws.
"It could have opened up the game more," Morningstar said of KU hitting freebies. "That's how it goes sometimes."
Little effective
Little scored five straight points in the first half. He hit a deep two and a three that gave the Jayhawks a 19-11 advantage at 9:11.
"Coach said to be aggressive and just play. I think I did that today," said Little, who scored seven points and had six boards in 16 minutes.
"This team ... our level of confidence has grown each game," Little added. "For us, the first one (Friday against North Dakota State) was the tough one. We were more confident after that against an athletic team like Dayton."
How sweet it is
The Jayhawks were giddy after reaching the Sweet 16 despite losing five starters from last year's national-championship team.
"Coach was basically celebrating, said he was proud," Little said. "He also is making sure we stay focused."
"It feels great knowing nobody expected us to get this far," Marcus Morris said. "It's a great accomplishment for us."
Stats, facts
KU advanced to the Sweet 16 for the third straight year and the seventh time in the last nine seasons. ... KU has won eight straight NCAA Tournament games and 11 of its last 12 in the last three years. ... KU is 8-3 all-time as a No. 3 seed. ... Collins (25) and Aldrich (13) combined for 38 of KU's 60 points. The two have scored 93 of KU's 144 points in the first two rounds of the NCAA Tournament. ... Aldrich scored KU's first six points before Collins scored the Jayhawks' next eight and Little scored the following five. Collins then scored the next six points for KU. The three combined for 28 of KU's 29 first half points as Taylor made a free throw.
More like this story on KUsports.com