KU vs. Texas
Videos
KU vs. Texas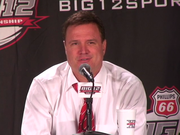 Kansas defeated Texas in the 2011 Big 12 tournament championship game Saturday, March 12, 2011 at Sprint Center in Kansas City, Mo.
Kansas City, Mo. — Forget the style points, throw the scorecards they use at the NBA's slam dunk contest away. Saturday's dunk by Kansas University senior Tyrel Reed during KU's 85-73 victory over Texas in the Big 12 tournament title game earned high marks from the rest of the Jayhawks for one reason and one reason alone.
"First off, I'll give him an eight or nine just for completing it," said junior guard Tyshawn Taylor, whose steal and assist led to the first dunk of Reed's KU career. "Now, if I was doing the dunk contest or something like that, I'd probably drop it down to a two or three."
Either score was fine with Reed. Widely known to have the highest vertical leap on the KU team, Reed has been constantly ribbed during recent weeks about the possibility of finishing his career without throwing one down.
"You should see him in practice," sophomore forward Thomas Robinson said. "Seeing that he has the highest vertical on the team, I'm gonna have to take some points away. But, he did it at the right time and the right moment, so I'm gonna give him an eight."
Added junior forward Markieff Morris: "We told him that he would never get one and he said he was definitely going to get one and he did. What better way to end (his career in) the Big 12 than by getting a dunk."
It wasn't just the dunk that had Reed's teammates talking. It also was the timing. The now-fabled flush came at the 12:25 mark of the first half and put KU up, 21-13. On a run-out on a fast break, Reed caught up with the pass from Taylor, took a couple of dribbles, rose high above the rim and hammered it home. The somewhat amazing part was that he chose to jump off his injured left foot instead of leaping off of two feet like he prefers.
"I haven't really jumped off one foot in a long time because of my foot," Reed said. "It was feeling pretty good in warmups and I was like, 'If I get a chance, I'm gonna try to do it.'"
It didn't take long for the chance to come, and it took even less time for the scores to roll in from the KU locker room after the game.
"I'll give it an 8.5," said sophomore guard Elijah Johnson, who had bumped his rating up to 9.33 by the time he finished explaining.
"Nine," freshman Josh Selby said.
"A 10," said senior Mario Little. "Not on style, just because. For style, I'm gonna give him a seven."
Usually on the same page, the Morris twins possessed slightly different views on the topic of Reed's rim-rattler.
"I give that a 10 because it was his first dunk in a game," Markieff Morris said. "And he surprised me. I thought he was gonna do something else, so I gotta give that a 10."
Added Marcus Morris: "That's my man, so I'm gonna give him a seven. It was nice. He got up, he put some authority behind it and he showed some emotion. Just for him to be able to get his first dunk at such a big moment was definitely special."
Of those interviewed, sophomore Travis Releford dished out the lowest score. Releford, whose windmill jam against UMKC in January has been nominated for a national-dunk-of-the-year award, shrugged and decided on the number six for his score. Ironically, the Jayhawk who was closest to Releford's assessment was Reed himself.
"Maybe a six, maybe a five," Reed said. "I wasn't doing anything crazy. It was just a basic, one-handed dunk. It wasn't anything special."
Not so, said senior Brady Morningstar.
"'About time' is my comment," Morningstar said. "The two words I have for it are, 'About time.'"
Reed finished with 11 points, seven rebounds and two steals in 35 minutes. He wore a sleeve on his right calf to provide padding for a deep bruise and said the sore left foot did not bother him any more than it had in recent weeks.
"It's OK," he said. "It's sore, but I'm a senior and I want to do everything I can to be out there and help the team win. I'm fine. The season's gonna be over after this, so I'll push through whatever I have to."
More like this story on KUsports.com