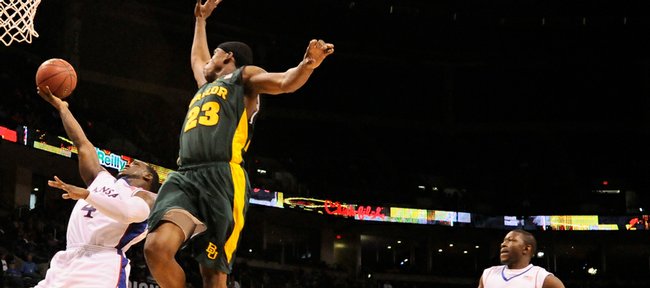 Oklahoma City — Baylor's Kevin Rogers was either being forgetful or humble.
After his team's 71-64 Big 12 tournament basketball victory over top-seeded Kansas University on Thursday, the forward said he didn't remember making the prediction Wednesday that his team would beat the Jayhawks.
"I said we would try, and fortunately for us, we were able to," Rogers said. "I don't make guarantees, because you never know what could happen. I never make guarantees."
Perhaps it was unintentional, but Rogers' quote after the Bears' victory over Nebraska on Wednesday opened some eyes around the Big 12 tournament.
"When we played (Kansas) at our place, we played them very close. They came out and got some stops and made some buckets," Rogers said Wednesday. "But like Curtis (Jerrells) said, this is a new thing. We are just going to come out and get a victory."
The Bears made Rogers look prophetic after their performance Thursday.
Baylor, which allowed 76.2 points per game in Big 12 play, held Kansas to 40.3 percent shooting and 64 points with a packed-in 2-3 zone.
"It's fun when you're out there and you're stopping the other team," BU guard Curtis Jerrells said. "We're doing what we know we should have been doing all season."
The Bears also limited the production of KU's Sherron Collins. The junior guard scored 16 points on 6-for-20 shooting with six assists and five turnovers.
"I think he was (frustrated). I think he was more frustrated with himself because we weren't letting him do what he wanted to do," Jerrells said. "That's our job as a team is to try to frustrate the head of the snake."
Collins was 1-for-8 in the first half and also finished the game making just one of his final eight shots.
"We just tried to make him beat us from the three," Jerrells said. "He's deadly when he gets into the paint and kicks out to those shooters, so we just tried to make him beat us from the three-point line. And he ran off about four in a row, but that's what good players do."
BU also was sparked by the play of Mamadou Diene.
The 7-foot-1 center finished with nine points on 4-for-4 shooting to go with four rebounds in 25 minutes.
During the 16-game Big 12 regular-season schedule, Diene had just 11 points. His season-high was seven points against Southern on Nov. 22, 2008.
"Obviously, we wouldn't have won the game without him," BU coach Scott Drew said. "I think that's a senior not wanting to play his last game."
At one point this season, Baylor was 15-3 and ranked 19th in the national polls. The Bears ended their regular season with 10 losses in the last 13 games.
"We didn't come here to get halfway there," Rogers said. "We definitely want to finish it out."
More like this story on KUsports.com