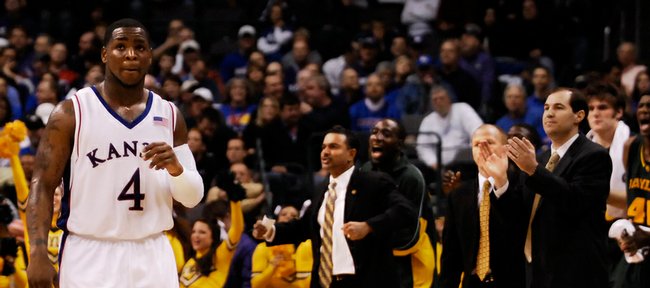 Oklahoma City — Sherron Collins' head was bowed as he mumbled responses to a batch of reporters' questions Thursday afternoon in a somber Ford Center locker room.
"This hurts … bad," Collins, Kansas University's junior point guard, said after the Jayhawks' 71-64 Big 12 tournament quarterfinal loss to Baylor.
"I'm not shocked, just upset," Collins added after feeling the pain of "one and done" in the postseason for the first time in his college career.
"I am the leader of the team. I was not there today and should have been."
Collins had 16 points, but was just 6-for-20 shooting, including 4-for-12 from three-point range.
His off day, coupled with the five-shot, eight-point outing from center Cole Aldrich, helped doom the Jayhawks (25-7) to their first loss in the first round of a conference postseason tournament since 1989, when the Jayhawks fell to Kansas State in the old Big Eight tourney at Kemper Arena in Kansas City.
"I take most of it (blame)," Collins said. "I didn't lead the team like I should have."
While coach Bill Self acknowledged that "our team is built around Sherron and Cole, and we need those guys to perform," those two weren't asked to shoulder all the blame.
"Everybody has been telling us or them (Jayhawks) how happy they are with them and all this and that. Today is a reality check," Self said of his five-time Big 12 regular-season champs perhaps getting softened by all the positive publicity of late.
"First thing we are doing, we go back (on team bus) and go to school tomorrow and make all the players walk around class (campus) with all the other students wondering, 'Why are you back here already?'
"And then we will practice as hard as we have ever practiced in the next two days and get them thinking about that as opposed to worrying about what just happened," Self added.
What happened is, No. 1 seed KU dug a 17-point hole (30-13) just 13 minutes into the contest.
"To me, you are reigning Big 12 champs, you've got a chance to come here and validate your regular season … to not play with more energy than we did is totally inexcusable," Self said.
"Our two key guys have got to provide that leadership," he added of Collins and Aldrich. "Here's a couple of guys that made first-team all-league, and you want to come to our showcase of our league, which this is, the tournament, and perform your best and kind of validate what everybody else has been saying about you the whole year. We obviously didn't do that. We looked like a tired team today."
The three-time defending postseason-tourney champs battled back from the early hole to lead by five points (58-53) with 8:47 left. Instead of folding, however, the No. 9-seeded Bears used a 12-0 run to grab a seven-point advantage (65-58) at 3:37.
"The whole thing is, this time of year you've got to play smart, you've got to guard, you've got to rebound. I don't think we were very good in any of those areas," said Self, whose Jayhawks were victimized by guard LaceDarius Dunn, who hit nine of 16 shots, including six of 11 threes, for 24 points.
A Dunn three, which gave the Bears a 65-58 lead, was answered by Tyrel Reed and Collins, who hit threes to trim the deficit to one (65-64) at 2:51.
Collins had a potential tie-breaking shot swatted by center Mamadou Diene (five blocks) with 1:51 left. Then, Collins shot an airball from three at :26, with KU down, 67-64.
"I had an open shot (three) to tie it up and missed it," Collins said. "It got away from me the second I let it go. It slipped. I just lost it, didn't make it."
Henry Dugat followed with two free throws at :20.8 to extend the lead to five points. Collins then committed his fifth turnover aginst six assists, and Tweety Carter converted a meaningless layup to conclude the scoring.
"There's nothing to say. We had them by five late. We let it slip away. It's back to practice so we don't let it happen again," Collins said.
Indeed, the Jayhawks will practice once today, twice on Saturday, then gather at 5 p.m. Sunday to watch the NCAA Tournament Selection show on CBS.
"We've got a lot to work on. We've got a few days to figure it out. We are going to put a lot of time in the gym," Aldrich said.
Some of the work may be against the tightly packed zone defense.
"The bottom of their zone was tough," Aldrich said. "They were long and physical down there. We usually move the ball well."
"We'll practice as hard the next two days as we ever have — Friday, a couple times Saturday. Hopefully we'll get confidence through work," Self said. "I'm not a big believer something great has to happen all the time to be confident. You've got to keep working on execution at practice (to be confident)."
More like this story on KUsports.com