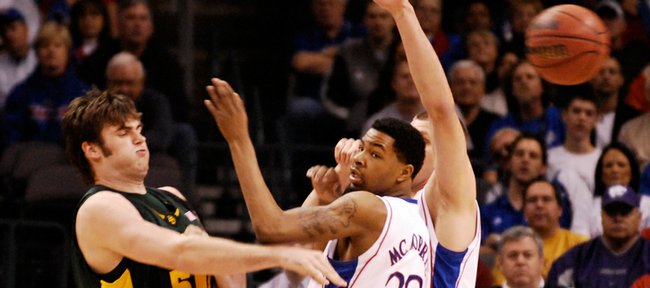 Bumps, bruises
Kansas University's Sherron Collins said he banged his left leg in the second half.
"I didn't adjust to a screen, and we (he and an unnamed Bears player) ran into each other. It didn't bother me. It didn't have an effect on the outcome," Collins said. "It's the time of season you don't have your legs under you all the time. I'm all right."
KU's Mario Little took a shot to the stomach in the second half. "I'm all right. It knocked the wind out of me," he said.
Zone trouble
KU's Cole Aldrich hit three of five shots and two of two free throws for eight points with 14 rebounds.
KU's perimeter players had trouble feeding him the ball against Baylor's zone defense.
Coach Bill Self said KU had trouble feeding Aldrich, but that Aldrich shouldered some of the blame, too.
"I think it is a tribute to their zone. I think it is a tribute to our perimeter not doing a great job. Cole has to take responsibility for it, too," Self said. "Guys have to find a way to get the ball. This was a game in which he labored probably as much as he has at any point in time this year.
"What a zone does — and that was a stretched-out zone where the middle was open — it creates doubt. We weren't aggressive. We didn't get to play up against it. I don't know how many shots we had the second half that we took a step outside our shooting area. We didn't drive nearly enough. They gapped it and made you drive it.
"It also took us away from second-chance points for whatever reason. We didn't do a good job on the offensive glass that you would think we would when we shoot that poorly against a zone where it is tougher to block out. All in all, (it was) just a pretty poor performance offensively."
Dunn shines
LaceDarius Dunn burned KU for 24 points off 9-of-16 shooting, including six of 11 three-pointers.
"We let him get comfortable," Self said. "Very very discouraging. It is something you tried to hang your hat on and something we did a very poor job of."
Newbies
Little was enthused playing in his first Big 12 tourney. "I was real excited. I thought we were going to come down here and play hard and try to take the tournament," he said.
Freshman Tyshawn Taylor noted: "I was excited. I felt we worked real hard to get here (as No. 1 seed). We started slow, then we played real well. It's a game we knew we had won. We let it go."
Stats, facts
KU was the second No. 1 seed to lose in a first-round Big 12 tournament game. Baylor beat No. 1 Iowa State in 2001. ... KU is now 12-1 in first-round Big 12 tourney games. The Jayhawks are 25-7 all-time at the event. ... KU is 15-2 all-time versus Baylor. The Bears snapped a seven-game losing streak versus KU. ... KU is 5-2 in Ford Center. ... KU, which was down, 37-33, is 3-4 when trailing at the half. ... KU tied a season low with four steals, while Baylor tied a Kansas opponent season low with seven turnovers. ... Collins tied a Kansas Big 12-tournament record with 20 field-goal attempts and 12 three-point field goal attempts. His 12 three-point attempts are also a career high. ... Aldrich went 2-for-2 from the free-throw line and has now made 16 straight free throws dating to Feb. 23 at Oklahoma.
More like this story on KUsports.com