Audio clips
2009 KU-TAMU Jan. 19
Reader poll
Sherron Collins

15%

12 votes

Mario Little

68%

53 votes

Cole Aldrich

5%

4 votes

Tyshawn Taylor

6%

5 votes

Other

3%

3 votes
77 total votes.
Videos
6Sports Preview: Kansas vs. Texas A&M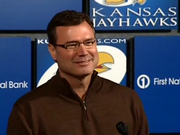 The Jayhawks take on Texas A&M on Monday night at Allen Fieldhouse.
Reader poll
Brady Morningstar

60%

1187 votes

Cole Aldrich

29%

579 votes

Tyshawn Taylor

5%

111 votes

Travis Releford

2%

40 votes

Other

2%

42 votes
1959 total votes.
College basketball fans' expectations lean heavily toward the optimistic in the offseason. The more players a fan base hasn't seen, it seems, the higher the expectations soar.
Never mind that Kansas University had just one player, Sherron Collins, who logged more than four minutes in the 45-minute national-title game in San Antonio, the Jayhawks would reload sufficiently to lay waste to middle-of-the road Big 12 teams, game after game.
After all, they would introduce the National Junior College Player of the Year, Mario Little, to the Big 12, and he would show off a mid-range game from a bygone era.
Plus, Marcus Morris, a 6-foot-8 forward, not only would run the floor more like a guard, he would toss up three-point shots with such beautiful rotation on them they would disturb nothing but net.
Not only that, Tyshawn Taylor, a key component from the No. 1 high school basketball team in the nation, would be ready to start right away and team with Collins to give Kansas another ultra-quick backcourt.
Collins finally would have healthy knees and sweat himself into such good shape that few guards would have any shot at keeping him in front of them.
Cole Aldrich would improve his stamina, his strength, his post moves and his shooting range, going from being the fourth-best big man on the team to a force at both ends whose name would creep into conversations about the nation's best all-around centers.
All the new parts and returning parts would blend right in time for conference play, and Bill Self would be right back in the hunt for another Big 12 title.
It all seemed on the unrealistic side at the time. It seemed to brush off the reality that teams with a lot of freshmen surrender a lot of points.
Yet, it looked right on the money in KU's big Monday night victory against Texas A&M;, 73-53, in Allen Fieldhouse.
Toss in another ingredient that nobody guessed in the offseason — Brady Morningstar developing into a shut-down defender — and, amazingly, these Jayhawks already are playing like a typical Self team plays once the conference season arrives.
Kansas defended like a veteran team and managed to prevent A&M; from letting a single scorer reach double figures. Morningstar added another big scorer to his shut-down list, holding 6-foot-7 sharpshooter Josh Carter to seven points. (Is it just me or does this feel like Carter's 10th season at Texas A&M;?)
Meanwhile, by trapping the post, Kansas kept productive big men Chinemelu Elonu and Bryan Davis in check.
Aldrich explained how the Jayhawks did that so effectively and in doing so made it clear the importance of young players soaking up the knowledge of more experienced ones.
"Last year, I kind of learned some things from Sasha (Kaun)," Aldrich said. "He'd bull-rush you with his chest, just freak out. That's what we were trying to do. We tried to shock them so they would throw a bad pass out."
It worked awfully well. The Aggies fell way behind at the start and never got back within hoping distance.
This game, more than any, showed how much Self's latest ready-for-conference-play team has improved.
More like this story on KUsports.com