Audio clips
2009 KU-TAMU Jan. 19
Reader poll
Sherron Collins

15%

12 votes

Mario Little

68%

53 votes

Cole Aldrich

5%

4 votes

Tyshawn Taylor

6%

5 votes

Other

3%

3 votes
77 total votes.
Videos
6Sports Preview: Kansas vs. Texas A&M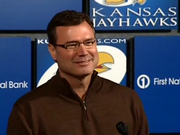 The Jayhawks take on Texas A&M on Monday night at Allen Fieldhouse.
Reader poll
Brady Morningstar

60%

1187 votes

Cole Aldrich

29%

579 votes

Tyshawn Taylor

5%

111 votes

Travis Releford

2%

40 votes

Other

2%

42 votes
1959 total votes.
Recruiting flap
The Springfield (Mo.) News-Leader reported Monday that Kansas University basketball coach Bill Self had inappropriate recruiting contact Saturday with John Wall, a 6-foot-4 high school senior point guard who is rated as the Rivals.com's top-rated prospect.
According to columnist Allen Vaughan, Self spoke with Wall, who was playing in a tournament in Springfield, after he exited the winning locker room and said, "Johnny, great win man. You really played well."
After Wall thanked him, Vaughan said Self added, "I'm not supposed to be talking to you, and you know that, but I just wanted to tell you that was a great win."
According to USA Today, this is a no-contact, evaluation-only period in which NCAA recruiting rules prohibit "any face-to-face encounter that is prearranged (e.g., staff member positions himself or herself in a location where contact is possible) or that takes place … at the site of organized competition or practice … regardless of whether any conversation occurs."
They also bar "any dialogue … in excess of an exchange of a greeting."
KU associate athletic director Jim Marchiony said Monday that he was aware of the incident and that the university is currently looking into the details of the matter before deciding whether to turn it into the NCAA, apparently as a secondary violation.
"Bill has already told us about it, and we are discussing it internally," Marchiony said.
Self addressed the issue after Monday's victory over Texas A&M.;
"Basically, it's accurate," Self said of the paper's report. "I don't know if the exact quote was accurate, but basically it's accurate. I was at the game, when it was over, like I always do, like every coach always does, (I was) trying to catch a plane, so I went back to tell the coach congratulations, good win. I was approached, shook a hand and said, 'I can't talk to you, but you played really well.'
"If that exchange — which is what it was — is a problem, our administration will deal with it. I certainly by no means am going to deny what happened, but the reasons I was back in there (by locker room) was to say hi to the coach."
Wall, a senior at Word of God Christian Academy in Raleigh, N.C., has KU, Baylor, Duke, North Carolina State and others on his final list.
Taylor honored
Kansas University freshman guard Tyshawn Taylor on Monday was named Big 12 Conference rookie of the week Monday for his performance in victories over Kansas State and Colorado. Taylor has won the award three times this season. He's the first Jayhawk to take the honor three times in a campaign since Brandon Rush won it three times in 2005-06.
No letdown this time
Cole Aldrich on KU not having a letdown after a fast start: "We talked about that at halftime again. We said we can't have one of those games. Sometimes we get ADD or ADHD and let it slip through our fingers."
Stats, facts
Sherron Collins ended the night with 999 career points. ... KU is 14-1 versus A&M.; ... The Jayhawks have won 35 straight at home.
More like this story on KUsports.com