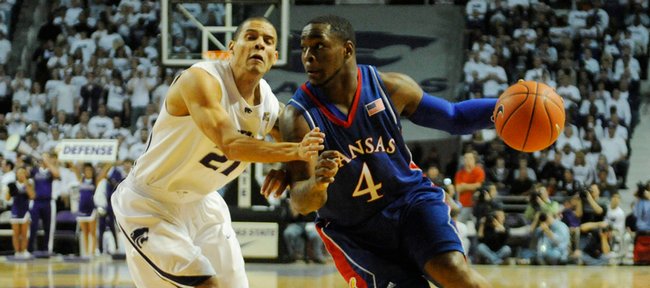 Manhattan — Denis Clemente was sorry that he hurt his team with a technical foul midway through the second half.
He wasn't apologetic, though, for elbowing Kansas University's Brady Morningstar to pick up the 'T.'
"He elbowed me in my stomach, and I'm not going to let nobody bump me in my house," the Kansas State guard said after KU's 85-74 victory Saturday. "This is my house. So I punched him back."
Did he deserve the technical?
"Yeah, I deserved it, but I got my respect," Clemente said. "You're in my house. You ain't going to do that to me. You ain't bumping me."
Though he might have gotten respect, he also killed the momentum for the Wildcats during a key stretch in the second half.
KSU was down just 53-51 with 13:52 left when a foul was whistled on Morningstar.
Clemente's technical followed, and KU's Sherron Collins hit two free throws before the Jayhawks received the ball.
"He reacted in a wrong way on that possession," KSU coach Frank Martin said, "and, unfortunately, he paid, and we paid."
On the ensuing possession, Tyrel Reed drained a three from the left side, and suddenly the Jayhawks' lead was back to seven.
After a missed three from KSU's Jacob Pullen, a trey from Collins gave the Jayhawks an 8-0 run and a 61-51 lead.
"I think that's the game right there," Clemente said.
The junior guard apologized to his teammates in the locker room for his technical.
He later recalled that his coach told him on the bench, "Next time, you can't do stupid (stuff) like that."
Clemente also was involved in a similar incident late.
After shooting a free throw with 31 seconds left, video replays showed Clemente took a swing and made contact with Reed's head while the KU guard was boxing him out. No foul was called on the play.
Clemente seemed distant at the postgame news conference, often staring off in the distance. At one point, while a teammate was answering a question, he softly banged his head twice on the table in front of him.
"I want to win," Clemente said. "When you look at the scoreboard and see that we lose, I got a little bit crazy. I just wanted to win, you know? That's how I feel."
More like this story on KUsports.com