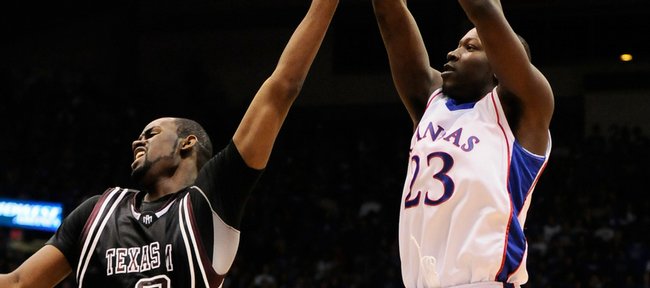 Audio clips
2009 KU-TAMU Jan. 19
Reader poll
Sherron Collins

15%

12 votes

Mario Little

68%

53 votes

Cole Aldrich

5%

4 votes

Tyshawn Taylor

6%

5 votes

Other

3%

3 votes
77 total votes.
Videos
6Sports Preview: Kansas vs. Texas A&M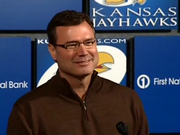 The Jayhawks take on Texas A&M on Monday night at Allen Fieldhouse.
Reader poll
Brady Morningstar

60%

1187 votes

Cole Aldrich

29%

579 votes

Tyshawn Taylor

5%

111 votes

Travis Releford

2%

40 votes

Other

2%

42 votes
1959 total votes.
Mario Little wishes he could have attended his beloved grandmother Hazel's 83rd birthday party Sunday at Rosemont Community Hospital on Chicago's south side.
Kansas University's junior forward had business to take care of in Lawrence, however — as in preparing himself for a key Big Monday basketball game against Texas A&M.;
"I'm her favorite. She's my favorite, too," Little said of Hazel, who has been in the hospital the past couple of weeks because of internal bleeding.
"I know she wished I could be there, but I got to talk to her, ask her how she was doing, see if she was happy. There were some things I dedicated to her tonight."
His belated birthday gift to Hazel was a career-high 15-point outing off 6-of-6 shooting — a dandy 14-minute performance that sparked the Jayhawks to a 73-53 rout of former KU guard Mark Turgeon's Aggies in Allen Fieldhouse.
"It made me play harder. I didn't want to let anybody down," said Little, who recently spent some quality time with his grandmother over a three-day Christmas break.
The good news is, Hazel should be released from the hospital soon.
"She had surgery. She's doing pretty well, I think," Mario Little said. "She just has to get a little stronger before they let her out, I guess."
Mario Little's breakout performance as a Jayhawk came in a sixth-man role.
Little, who had started the previous two games, scored nine points in an 11-2 run that stretched a healthy 20-8 lead to 31-10 with 7:23 left in the first half.
He hit his first three-pointer as a Jayhawk in that stretch.
"I just tried to be aggressive. I shot it pretty good in the warmups. I told one of the coaches I was going to make my first college three … well, my first Div. I three," said the former Chipola (Fla.) College standout, who entered 0-for-2 from three, missing one against Tennessee and one versus Kansas State.
Little definitely made the most of his 14 minutes.
He said his aching left leg (stress fracture) still is not 100 percent, but has felt strong lately.
It's not strong enough for him to do everything he'd like to do, however.
"I feel like I'm a slow small forward, kind of like Antoine Walker now," said Little, who showed perfect touch on his jumper Monday. "I can't really drive past anybody. With more reps at practice, I'll probably get to play the 3 (small forward instead of power forward as he played Monday)."
KU coach Bill Self said he felt Little and Brady Morningstar — who played great defense against Josh Carter (seven points, 2-of-6 shooting) — probably had the best games of any Jayhawk.
"Mario was great in the minutes he played," Self said. "He'll get in shape where he can play more than 14 minutes.
"He has a presence on the team nobody has besides Sherron (Collins, 16 points, seven assists). He believes he belongs. He gives us a toughness and presence, elevates our manliness."
"All along, we said he's a tough matchup for a 4-man offensively because he can step away from the basket. He's one of the few guys in college basketball — every team may have one, but probably not more than one — with a good in-between game. He's really good in that 15-foot range. He has that old-school mid-range game. He needed to have something good to happen. He was active and effective."
Little, who had scored just 11 points in five games all season, has been an inspiration to the team, sophomore Cole Aldrich (16 points, eight rebounds) said.
"He gives us a spark off the bench, the way he goes after rebounds," Aldrich said of Little, who had four boards. "Kind of the smile on the court he has when he's going through some tough times. He's always smiling. I don't know what it is. He has that great smile."
Little was smiling in the interview room after his best game as a Jayhawk, that's for sure.
"It's all good with me," Little said. "I know it's probably better if I come off the bench now. I can give us a spark off the bench."
Little was the feel-good story on a night the Jayhawks cruised.
KU raced to leads of 8-0 (following two Sherron Collins threes and a 12-foot Aldrich bank shot), 16-4 and 29-10 and led, 40-23, at halftime in a game never in doubt.
KU will meet Iowa State at 1 p.m. Saturday in Ames, Iowa.
More like this story on KUsports.com