Audio clips
2009 KU-TAMU Jan. 19
Reader poll
Sherron Collins

15%

12 votes

Mario Little

68%

53 votes

Cole Aldrich

5%

4 votes

Tyshawn Taylor

6%

5 votes

Other

3%

3 votes
77 total votes.
Videos
6Sports Preview: Kansas vs. Texas A&M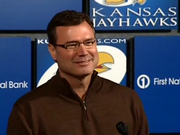 The Jayhawks take on Texas A&M on Monday night at Allen Fieldhouse.
Reader poll
Brady Morningstar

60%

1187 votes

Cole Aldrich

29%

579 votes

Tyshawn Taylor

5%

111 votes

Travis Releford

2%

40 votes

Other

2%

42 votes
1959 total votes.
Mark Turgeon's first trip back to Lawrence as a head coach was going splendidly until the game tipped off.
In pregame, Turgeon's Texas A&M; Aggies — who were destroyed by Kansas, 73-53 — were welcomed by the traditional chorus of boos during the player introductions on Big Monday at Allen Fieldhouse.
But then the Jayhawk faithful recognized one of their own and erupted in an ovation when the public-address announcer introduced the former Kansas point guard and assistant coach to the 16,300 fans in attendance.
"I've been coming to this building since I was 4 or 5 years old," Turgeon said. "I have a lot of great memories and saw a lot of familiar faces here tonight, which makes you feel good. People always treat me well here."
Then the referee tossed the ball into play, and the Jayhawk players — particularly Sherron Collins and Mario Little — stopped treating Turgeon so nicely.
In fact, after a 16-4 KU run to open the game, it's safe to say the Jayhawks rained on Turgeon's homecoming parade.
"KU's great in this building to start games," Turgeon said. "But we couldn't make a shot, and we just turned it over...I'm really disappointed because you ask about effort, and that's one thing I played with, and my team didn't play with it tonight. So it's a little disappointing."
Kansas coach Bill Self, who knows a little something about homecomings given his personal history with Oklahoma State, believes Turgeon will not regret the experience despite the lopsided result.
"First of all, you want to come in and play well and put yourself in a position to win the game," Self said. "But other than that, I would look back at this with fondness because of the ovation he got — it was fabulous."
"He'll be disappointed he lost, but I promise you he respects the way he was treated."
Turgeon said besides the warm welcome, perhaps the best part of his trip north was simply walking onto the floor where he was the general for a Final Four team and an assistant coach for a national-champion squad.
"I was excited," he said. "I came out early just to get a feel for the building again. Probably the first time I walked in for the shoot-around, I was just like, 'Man, this place is cool. This is just a great place.' But I wasn't going to allow myself to get too emotional because it's a game more than anything else."
Turgeon said he was also excited to escort his oldest son, William, around Allen Fieldhouse for the first time.
"It was actually his second game. The first time he was too young," Turgeon said. "I walked him through the Hall of Fame. It was a pretty cool deal."
Self believes it will only get easier for Turgeon to come back to Lawrence, as the first time is always the most difficult.
"I'm glad it's behind us," Turgeon agreed. "I hope next time we play a little better."
More like this story on KUsports.com