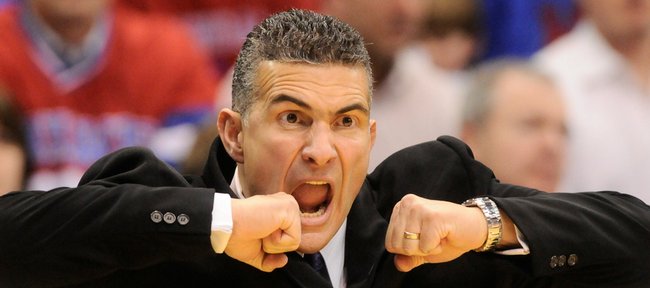 Well, this is becoming a bit repetitive, isn't it?
Every week, it seems, some opposing coach stands perched in front of a group of media members in an underground tunnel at Kansas University's Allen Fieldhouse and attempts to answer a dozen versions of the same question: Why, exactly, did your team come out so flat?
Tuesday night, it was Kansas State coach Frank Martin's turn. Having just watched his team fall behind 18-0 to start what would turn into an eventual 87-71 Kansas victory, Martin seemed as clueless as any of his college coaching colleagues in attempting to sum up his team's early woes.
"I've been here three years," said Martin, whose teams have had especially rough starts in Allen Fieldhouse during his tenure. "And three years in a row, we've been down 20 at the first media timeout.
"I don't know what it is about us and this building."
It is often debated just how valuable home-field (or -court or -course) advantage is to a particular team. At KU's Allen Fieldhouse, where championship banners line the walls and games against even the nation's most downtrodden teams are played in front of sellout crowds, it seems to be worth about 14 points — at least lately.
In the men's basketball team's past four home games, including Tuesday night's victory over the Wildcats, the Jayhawks have outscored opponents by an average of 23 to 9 in the first 10 minutes of play.
For those scoring at home, that's a 14-point deficit to overcome before the sweat has really even started to drip. For whatever reason, when the whistle blows and the ball starts bouncing, things have had a tendency to go the Jayhawks' way early.
Kansas forces turnovers. Scores some easy baskets. Gains some quick momentum.
And afterward, after Kansas has built an early home lead it never seems to relinquish, opposing coaches and players stand in front of reporters and try to explain — sometimes successfully, sometimes not so much — what it is about the fieldhouse that makes life so difficult for out-of-town foes.
"Its unexplainable," said guard Jacob Pullen, who finished with a team-high 13 points but shot just 5-for-15 from the field against Kansas. "You go out there, turn the ball over, turn the ball over, miss shots, wide-open shots, don't get back on defense. Practice, coaching, that has nothing to do with it. Frank has nothing to do with it. It has everything to do with those 12 people in that locker room."
Tuesday, the Wildcats' Achilles heel was a combination of shoddy defense and a slew of first-half turnovers, both of which allowed Kansas to spring an 18-0 lead that was never in real jeopardy.
In the first 10 minutes alone, the Wildcats coughed the ball up eight times, while their defense — the entity on which they've hung their hat throughout the season — fell by the wayside.
Despite falling to 0-2 in conference play, however, no one in the K-State locker room seemed too concerned with the team's conference hole.
As Pullen pointed out, "North Carolina is 0-2 (in conference play), and nobody's really worried about them, so I don't really feel worried about us."
And as Martin later added, the Wildcats were 0-2 a season ago, as well, before rebounding to finish 10-6 in the conference and qualify for the NCAA Tournament.
The difference this season, however, is that Martin doesn't possess two of the nation's top players in Michael Beasley and Bill Walker, as he did a year ago. With four new starters gracing his lineup, his players are still learning to be leaders, learning — as Martin says — to walk before they can run.
"You're not born (being able to) run a 50-yard dash," he said. "You've got to walk and fall down, and knock yourself on the head a couple of times, then you start kind of running, then you fall down, and then you keep getting better from it."
More like this story on KUsports.com