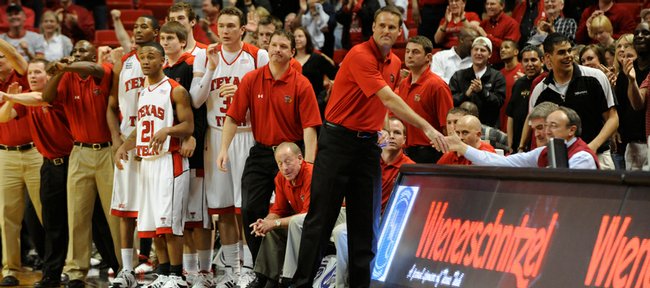 Audio clips
2009 KU-TTU March 4
KU vs. Texas Tech
Lubbock, Texas — Texas Tech's Alan Voskuil and his teammates read the newspapers.
"We came in and we saw (Kansas University's Sherron) Collins said he couldn't wait to celebrate in our locker room — winning the Big 12 championship. We weren't going to let that happen," Voskuil said after his team's 84-65 victory over KU on Wednesday at United Spirit Arena. "That just kind of fired us up, and then we said right from there, 'We're going to win this game.'"
Before practice Monday, Collins told reporters: "It's a great feeling to clinch on the road. You get to celebrate in somebody else's locker room. The bus ride or flight home ... everybody is talking, and it's fun. It'd be nice to win it on the road."
Apparently, the Red Raiders took the words to heart.
"We were due for a win. We got it," Voskuil said. "It was nice to go out — us seniors — with a win like that. That's something we won't ever forget."
Afterward, Pat Knight just put on a smirk when asked if he had introduced the Collins quote to his team.
"I don't know what you're talking about," Knight said. "I get in trouble when I speak."
Knight was suspended by the Big 12 on Feb. 23 after criticizing officials in a postgame news conference.
Voskuil said he knew it might be his night an hour before tipoff when he hit 10 straight threes in warm-ups.
One of the TTU assistant coaches even went to Knight before the game to tell him, "I think Alan's going to go off tonight."
"I just felt like I could let it go at any time, and it was going to go in," Voskuil said.
Voskuil's 35 points and nine three-pointers were career-highs. He finished 10-for-17 from the floor and 9-for-14 from beyond the arc.
He also ended his Senior Night in impressive fashion.
After draining a deep three-pointer with 1:08 left, he took a few steps back on the next possession, swishing a shot from about 28 feet for his 35th point.
He did it all while hearing chants of "Voskuil! Voskuil!" in the background.
"I wasn't missing — I might as well throw them up there," Voskuil said. "I guess they went in."
When Knight hugged Voskuil during the final seconds, the coach was so happy he couldn't even say anything to his 6-foot-3, 181-pound guard.
"For a kid built like a fifth-grader to score 1,000 points in the Big 12 is remarkable," Knight said.
After the game, Voskuil was mobbed by students, high-fiving and chatting with them as he left the court.
Knight called it his best win as a head coach — one that he would still be talking about in 20 years if he was coaching then.
"I told our guys, 'In 10 or 15 years, no one will remember your record, but they will remember this game if you can pull it out,'" Knight said. "This is a game they'll always talk about for the rest of their lives."
More like this story on KUsports.com