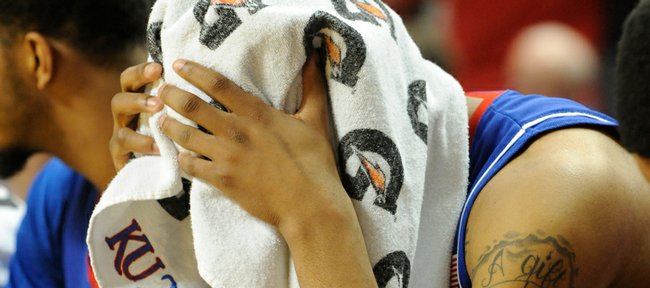 Audio clips
2009 KU-TTU March 4
KU vs. Texas Tech
Lubbock, Texas — Heads bowed as they exited their United Spirit Arena locker room, Kansas University's basketball players boarded their team bus late Wednesday night as five-time Big 12 champions.
"Yeah, I'm ecstatic," KU coach Bill Self said sarcastically after the No. 9-ranked Jayhawks' 84-65 blowout loss to a Texas Tech team that entered an apparent mismatch with a 12-17 record, 2-12 in league play.
"It's what I told our guys in the locker room. I said, 'Congratulations, we won the league and got beat by 19,''' Self added.
"It's pretty remarkable a team could perform as poorly as we did tonight and was able to be 13-2 and clinch a tie and can win it outright on Saturday."
The Jayhawks — who were victimized by a career-high 35 points by Alan Voskuil on a night Sherron Collins and Cole Aldrich combined for 19 points off miserable 4-for-24 shooting — were guaranteed at least a piece of the crown thanks to Missouri's victory over Oklahoma on Wednesday.
KU (13-2 compared to OU's and MU's 12-3 marks) can win it outright with a victory over Texas on Saturday in Allen Fieldhouse. No matter what happens, KU, because of tiebreakers, is guaranteed the No. 1 seed for next week's Big 12 tournament.
"It really doesn't feel like it," Aldrich said of KU claiming another title. "We just didn't play our game. We couldn't buy a shot, and they couldn't miss."
Aldrich missed an inside layup try five minutes into the second half that actually could have brought KU all the way back from an 18-point deficit (39-21).
Instead he missed, Brady Morningstar missed a three, and Tech moments later, with the score 43-41, embarked on an 11-2 run to up its lead back to 54-43. Voskuil had hit two free throws in that run off a technical foul on Self, a 'T' Self said was "deserved."
"I missed shots tonight I make 99 percent of the time," said Aldrich, who hit one of five shots and six of six free throws. "It was really frustrating all the way around."
KU did slice the gap to a workable three points, 57-54, at 8:27. But Nick Okorie hit a three, then after Collins and Tyrel Reed missed threes, Marcus Morris not only was called for a foul, but a technical foul, apparently for barking at a ref.
Voskuil hit the two resultant free throws and Okorie two charities, and Tech again was in business at 64-54.
"You should never get a T,'' Self said. "I deserved my T. I know what the official said what Marcus did. It was something not confirmed by our players. I deserved mine. I thought he blew the call. I thought it was a big deal. T's don't usually come at opportune times. I don't think it cost us the game tonight. They didn't help us in any way, shape or form."
Self said, "I won't go into it," when asked what the ref said Morris said.
Morris said: "My coaches talked to me about it and told me I've got to stop being so emotional. No words came out of my mouth. It was just the emotion I was in. I guess that's what happened."
Self had a lot of words to describe the loss.
"Our whole team collectively played very very poor. All around, coaching, execution, everything was poor," Self said. "They whipped us in every capacity."
Collins had a tough night, obviously, considering he missed 16 of 19 shots and nine of 10 threes.
"Going 3-for-19 he couldn't throw it in the ocean. When you have your other players play so poorly we couldn't even sub them ... we should not point to one player as far as poor play. I could point to a lot of different reasons we played poorly," Self said.
KU's perimeter defense was lacking big-time. Tech made 15 of 27 threes.
"Playing H-O-R-S-E, 15-of-27 is pretty acceptable," Self said. "Cause that's what they were playing. If defended, 15 of 27 is unbelievable. It's as good as a team can shoot.
"I don't know Voskuil at all ... Senior Day probably means something to him," he added, noting it was fitting the senior threw in his final two trey tries down the stretch with the small crowd of 9,883 making a lot of noise.
The Jayhawks will go for the undisputed league title versus Texas at 3 p.m. Saturday in Allen Fieldhouse.
"I think if we lost we needed one like this," Collins said. "We were feeling pretty good about ourselves. We have to get back to work and try to win it outright on Saturday."