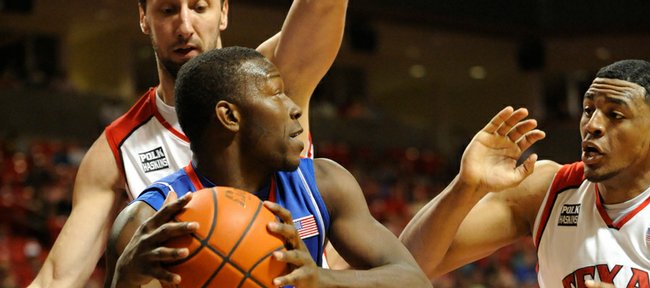 Audio clips
2009 KU-TTU March 4
KU vs. Texas Tech
Injury update
Kansas freshman guard Tyshawn Taylor fell to the floor in the final two minutes and limped off the court.
"I jammed my left big toe when I hit the floor. It's fine," said Taylor, who scored 11 points in 28 minutes.
Cole Aldrich, who has been wearing a boot on his left foot of late, sprained his right ankle late.
"It's fine. It's another little thing. I'll get treatment and be back on it," Aldrich said.
Left at home
KU junior guard Tyrone Appleton did not make the trip because of a bout with the flu.
Sorry setback
KU suffered what is believed to be the fourth-worst loss in coach Bill Self's six years at KU. KU lost by 25 to Texas in 2006, 21 to Villanova in 2005, 20 to Oklahoma State in 2004 and 19 to Nebraska in 2004.
Sherron says …
Sherron Collins on the loss: "We didn't have it today. We weren't ready to play. Nobody played good today. Everybody played bad."
Jayhawks honored
KU senior Matt Kleinmann and sophomore Tyrel Reed were named to the first-team Academic All-Big 12 basketball team, the conference office announced Wednesday. Sophomore Cole Aldrich made second team.
To be named to the first team, one must have a grade-point average of 3.2 or better. To make second team, one must have a GPA of 3.00 to 3.19. Kleinmann majors in architecture, Reed in exercise science and Aldrich in communications studies.
To qualify, athletes must maintain a 3.00 GPA or higher either cumulative or in the two previous semesters and have participated in 60 percent of his team's scheduled contests. Freshmen and transfers are not eligible in their first year of academic residence.
Woolridge team wins
Future KU shooting guard Royce Woolridge scored 31 points to lift Phoenix Sunnyslope High to a 78-65 victory over Avondale Agua Fria in Tuesday's Arizona Class 4A Div. II state championship game.
Woolridge, a 6-3 junior who has committed orally to KU, scored 19 points in the third quarter — including 13 straight in the first five minutes — in helping Sunnyslope to its first state crown since 2002.
Sunnyslope finished with a 24-5 record.
OSU coach on his future
Oregon State coach Craig Robinson had a wild response in an interview with the Oregonian newspaper about his future in the sport.
He said he was happy at OSU, but ...
"Of course, if somebody said Bill Self has decided to go pro and Kansas wants you, you have to say, 'OK, let me talk to them' ... you know what I mean? But I'm not (looking) ... it would be hard for me to keep hopping around."
His sister is First Lady Michelle Obama.
More like this story on KUsports.com