KU vs. Texas
Videos
KU vs. Texas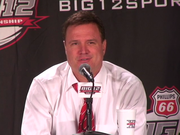 Kansas defeated Texas in the 2011 Big 12 tournament championship game Saturday, March 12, 2011 at Sprint Center in Kansas City, Mo.
Kansas City, Mo. — Kansas University basketball coach/psychologist for young male adults Bill Self has had one of the quickest guards in America on his team the past three years, so quick, in fact, that it seems at times about the only one who can get in front of him to stop him from getting where he wants to go is Tyshawn Taylor himself.
Self had tried just about everything to get the easily distracted Taylor to keep his mind locked on self-improvement for the benefit of the team. Everything, that is, but ripping his starting job from him and telling the world with conviction that Elijah Johnson was his new point guard.
So he tried that one. So far, so brilliant.
That ploy would only work if Johnson played well enough to create a point-guard competition. Johnson obliged by exceeding everyone's defensive expectations and bringing a calmness to the team at the other end.
All the while, Self knew where he wanted it all to end up, and just in time for the NCAA Tournament Kansas will enter as a No. 1 seed with a 32-2 record, he has the shakiest position on the team in better hands than at any point this year.
Taylor played a big game in helping Kansas to get past Colorado in the semifinals and played the game of his career in leading his team to an 85-73 payback of Texas to the delight of a capacity Sprint Center crowd Saturday in the Big 12 title game.
Making like Usain Bolt with a basketball bouncing at his side, Taylor zipped his way to 20 points, four rebounds, five assists and a steal in 37 minutes in his first starting assignment since before his late-season, two-game suspension for violating a team rule.
Taylor didn't try to deny losing his starting job helped hone his focus.
"Oh, for sure," Taylor said. "I've been starting for a while, since I was a freshman here. And I love starting. Who wouldn't?"
Maybe Self over-reacted to whatever rule Taylor broke because he knew Kansas wasn't going to get to the Final Four in Houston without consistent play from his point guard. We might never know, but even Taylor has his suspicions.
"I think coaches go to a psychology class or something to kind of mess with people's minds to get them to think how they want them to think," Taylor said.
The junior point guard with the lively personality and wandering focus can't dispute that his time in street clothes led to Kansas peaking just in time for March Madness.
"I think that might have been the best thing that happened to me and this team," Taylor said of the suspension. "I think it gave Elijah some confidence. Like I said, with him playing good, it makes us a better team. And myself as well."
Basketball aside, I asked Taylor, how smart is his coach?
"I think he's a genius, if you ask me," Taylor said. "He knows what he wants and gets people to follow his lead, and being able to do that makes you a smart person."
Taylor said that when Self went around the locker room before Saturday's game, pointing at one player at a time and reminding each guy they had won without him, when he at some point in his career missed a game because of injury or suspension or part of a game because of an ejection, it worked.
"It definitely did something for me," Taylor said. "I felt like I had to come out and show why I should be starting, why I should be playing. These last couple games, that's exactly what I wanted to do."
Taylor got the shaft when he wasn't named to the five-man all-tournament team. Other than Marcus Morris, nobody had a better tourney than Taylor. Oh well, if that gives him a little chip going into the tournament, maybe that's not such a bad thing.
"Tyshawn can get comfortable," Self said. "Comfortable's bad. He needs to have that edge every day."
Taylor, who scored 37 points in the final two games of the Big 12 tourney, has regained his starting spot, which means Johnson will come off the bench again.
"I got game experience out of the deal," Johnson said. "I'm more comfortable on the court now. I don't feel like I can get more comfortable on the floor now, that's pretty much it."
Self was asked if he knew all along he would go back to Taylor as his point guard.
"You know, I knew what was best for our team, and what's best for our team is to have him in the game," Self said. "But there's a place for Elijah, too. There's a place for both of our guys. And there are some times where if Tyshawn wasn't playing well statistically, he can still impact the game in a lot of ways. And I think that's something that he kind of got away from a little bit when things weren't going well."
In this season in which four players have missed games because of suspensions and three because of injuries, the rotation forever has been in flux. Now, in the nick of time, it appears set. Nobody's suspended. Nobody's too injured to play. And the most inconsistent key player just might have grown up at the perfect time. Time will answer that question.
"Coach just told me he thinks it was the best game I played in college, so I'll take his word for it," Taylor said. "We ain't done, though. We've got another one to go yet."