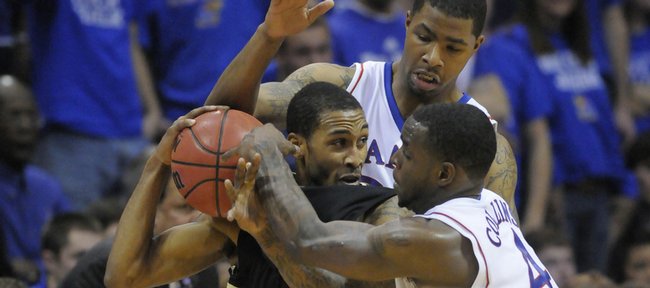 Collins sick
KU point guard Sherron Collins became ill at halftime. He didn't score and had just one assist while playing 12 minutes the second half.
"He was throwing up, nauseated. Then he fell wrong the second half," coach Bill Self said.
Collins banged his side and applied ice the final five minutes of the game while sitting on the bench.
"Sherron got kneed about three weeks ago, and he's still not 100 percent, but he's not gimping around, and he has never complained once," Self said. "You can just see the maturity in certain guys and their leadership has been good."
Cole's still sick
Tyrel Reed confirmed his roommate, Cole Aldrich, hasn't been feeling well.
"I don't think he's 100 percent, definitely. I know that he's been battling the flu and all that good jazz. Most people can't ever tell he's sick because he has a good attitude. He'll get through it, and he'll be fine," Reed said.
Dunks
Xavier Henry flushed three alley-oop passes from Collins.
"When I see him go like that, I know I'm about to dunk," Henry said, referring to Collins pointing a finger in the air.
Henry was asked if there's anything better than an alley-oop dunk.
"Maybe hitting a buzzer-beater or a halfcourt shot or something," Henry said. "It was fun. Sherron makes great passes, and Cole sets great screens, so if you add those together that's what happens."
Stats, facts
Collins had seven assists, making him the 13th player in KU history to have 400 or more assists. ... Marcus Morris scored a career-best 19 points. His previous career high was 15.
More like this story on KUsports.com