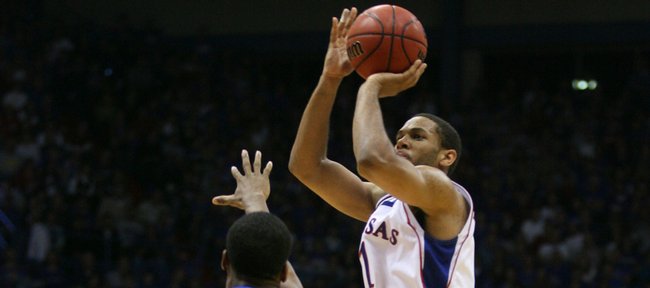 It took much-hyped freshman sensation Xavier Henry all of one game to etch his name into Kansas University's storied basketball record books.
"I never really think about that stuff, but down the road I bet I'll think about it and be proud of it," the 6-foot-6, 220-pound McDonald's All-American said after erupting for 27 points while playing 24 minutes of the Jayhawks' 101-65 season-opening victory over Hofstra on Friday in Allen Fieldhouse.
It was the most points scored by a freshman in his debut in KU history, surpassing the 21 points netted by Norm Cook against Murray State back in 1973.
"Of course it was Xavier's night," KU coach Bill Self said after watching the rookie hit eight of 12 shots, including five of eight three-pointers. He also cashed six of six free throws. "I told him after the game that it was a freshman record and congratulations, but not to get too cocky.
"It's a great performance. It's not the best performance by a first-year guy, 'cause Wilt went for 52," he added of Wilt Chamberlain riddling Northwestern back in 1956 in his sophomore-season debut.
Remember, freshmen were ineligible at the time.
"I'm happy for him. He's a natural scorer. He has been kind of thinking instead of playing. Tonight he played instead of thought, which was a good thing. He looked more fluid tonight," added Self, who said Henry also performed well defensively.
Henry, who combined for 24 points off 42.9 percent shooting in KU's two exhibition victories, said he wasn't trying to lead the way on a night Sherron Collins scored 23 points, Cole Aldrich hit for 11 points and eight rebounds and Tyshawn Taylor helped clamp down on junior guard Charles Jenkins, who scored 23 points, but just five the first half as KU blazed to a 48-27 halftime lead.
"I'm trying to pick my spots. I'm not trying to be a ball-hog. I'm more a team player. l like playing with my own team," Henry said. "I've got a big man All-American, a point guard All-American. I'm not supposed to be out there doing all that. I'm trying to fit in and be aggressive at the same time."
Henry's attitude shows in his desire to play defense.
"I've gotten way better since high school," he said. "I get in people's heads and get in real tight. I like to play defense now. It's going to be a good deal for me this year."
Of course, Self has encouraged the player to learn defense quickly.
"He's been tough on me about everything," Henry said. "It'll help me come along faster. I accept it (coaching) and try harder. If he didn't do it, I'd feel lackadaisical and stuff. I don't want to feel like that. I want to feel pressure all the time."
As Self said, though, Henry is a natural scorer.
"I see it a lot," Marcus Morris said of Henry lighting it up at practice. "(But) not like that. He makes a few, but definitely not like that. He doesn't get them in a row like that, either."
Told about Morris' comments, Henry said jokingly, "Man, Marcus, that's what a hater is. If y'all don't know what a hater is, that's a hater. A shot will be on and off. You can't control that. Tonight it luckily was on."
Henry hit three threes in the first five minutes of the second half.
"I tell him, 'You can't shoot a bad shot,''' senior guard Collins said, encouraging the lefty to fire away when open from anywhere on the court.
Henry also had two breakaway dunks Friday. He put them both down with two hands. They thrilled the crowd because of their force, but they were definitely of the simple variety.
"I was nervous making sure I didn't dribble it off my foot and fall," Henry said. "Once I got to the rim, I just wanted to put it in. You'll see different things when I'm relaxed. Tonight I was stressed out for a little bit."
He said the best thing about the game was not his exploding on the scene, but the fact KU is 1-0 heading into Tuesday's 9 p.m. game against Memphis in St. Louis.
"Everybody on this team is not too into themselves. We just know we want to win. That's what our goal is, to be 40-0 and not for everybody to go to the NBA or average 30. Our goal is to win it all, and we know how to do that," Henry said.