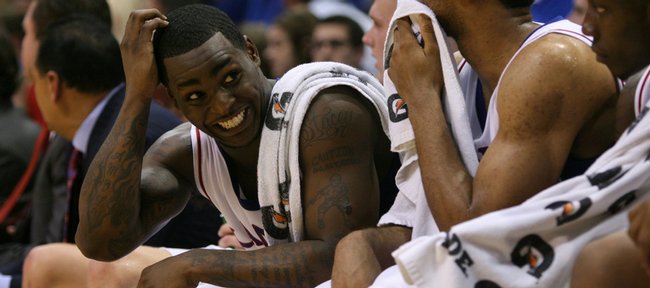 Kansas University senior Mario Little and sophomore Travis Releford will red-shirt this season, KU coach Bill Self said after Friday's victory over Hofstra.
"Unless something unforeseen happens. I guess we can always pull them out," Self said of removing the red shirt if players in the current rotation are injured.
He said both juco transfer Little and true sophomore Releford should benefit from practicing and not playing in games.
"Juco guys rarely graduate in two years because all the hours don't transfer," Self said. "Mario still has an outside chance to do that still (this year), but the extra year will guarantee him graduating. I think that's pretty significant, pretty important.
"I also feel that with him not playing (much) last year and everything (because of injury), he could do some things to improve his perimeter play if he sits. He gives us an experienced guy next year, depending on who we lose (to NBA).
"With Travis … I think he will be a starter here. It'll be very difficult for him to get a lot of minutes this year. So substituting age 23 for age 19 I think is pretty much a no-brainer for him," Self added.
Little said though it was "hard to watch" from the sidelines Friday, he's pleased with his decision to red-shirt.
"Myself, my family, a lot of people close to me thought I should red-shirt," he said. "It was a tough decision. I did it. Hopefully in the long run it'll pay off.
"I didn't red-shirt because of Harrison Barnes (not choosing KU) or Xavier (Henry, perhaps turning pro after one year). I red-shirted because I felt I needed to work more on my game because last year I didn't get to work at the guard spot."
Proud of frosh teammate
Sherron Collins, who was outscored by Henry 27 points to 23, grinned when asked if he gave the freshman grief for finishing with more points. Collins led the team in scoring in 27 of 35 games a year ago.
"Nah, I didn't get on him for that. I try to get the ball to him and encourage him to shoot, score. It'll help us win," Collins said. "I'm proud of him. He works hard at practice, doesn't pout or anything like that."
Good shooting
KU hit 50.8 percent of its shots, including 11 of 27 threes against Hofstra's zone defense.
"It was a weird zone, kind of a matchup. We got the ball where we wanted to the second half," Self said.
"I think Xavier was feeling it (five of eight threes), and even though Sherron only shot 4-of-10, he was 1-of-5 in the first and 3-of-5 in the second. He was feeling it a little bit, and they didn't really guard us. If they don't guard, sometimes it turns into a H-O-R-S-E contest, and they were hoping we'd miss. Fortunately we knocked them down."
Freshman update
Henry exploded for 27 points and five rebounds. Thomas Robinson had five points off 1-of-5 shooting and 3-of-8 free throwing with five rebounds. Elijah Johnson scored eight points off 4-of-5 shooting with four rebounds and two assists.
"We've got a long way to go. We had some freshmen not play nearly as well as they did in the exhibition games," Self said. "We certainly expect that, but there were some guys that did some good things out there."
Stats, facts
Hofstra received a guarantee of $75,000 for playing KU. … Tyrel Reed and Conner Teahan, who are not necessarily known for their shot-blocking, had two crowd-pleasing rejections. Robinson had a vicious block off the backboard, but was called for goal-tending. … KU won its eighth straight season opener and has won 18 of its last 19 openers. … KU stretched the nation's longest homecourt win streak to 42 games.