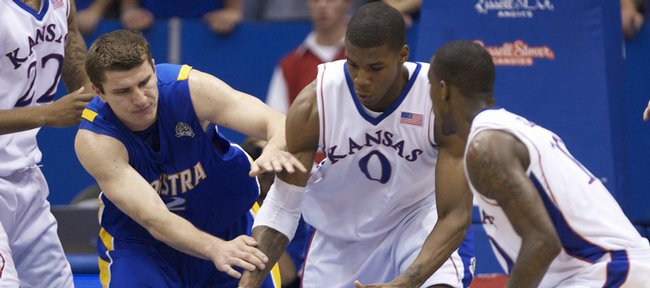 The fear, expressed often by those who pin a large chunk of their happiness on the outcome of Kansas University basketball games, was this year's team would be so deep there wouldn't be enough minutes to go around. Someone would grow unhappy and spoil team chemistry.
It won't happen. Barring injuries or another unforeseen occurrence, the nine players who played before garbage time in Friday night's season-opening, 101-65 annihilation of Hofstra figure to be the nine players who form the rotation when the meat of the schedule arrives.
None of them looked unhappy, unproductive, too rested. Six Kansas players blocked at least one shot, and nine players had at least one steal.
"I think we're an unselfish team," senior Sherron Collins said. "I don't think anybody's thinking, 'I didn't get enough minutes. I didn't get enough shots.' The shots are going to be there because we're going to move the ball and get so many open shots. I don't think we get too much into the minutes, who's playing what."
Collins and Cole Aldrich played key roles on a team that rode that thinking to a national title.
"Sometimes we'll be a little selfish in practice, and coach (Bill) Self will talk about how on the championship team nobody averaged 15, and he'll talk about how unselfish they were," sophomore Marcus Morris said. "We just want to resemble that because it got them a championship."
For openers, Collins, Tyshawn Taylor, Xavier Henry, Markieff Morris and Aldrich formed the starting five.
"I don't care about starting," Marcus Morris said. "My brother starts, and I started last year. Everybody always asks me, 'Why don't you start this year?' We're playing the best players. The best players always start. Being a sixth man, I feel good about it. Coming off the bench, I can be a spark for the team, and hopefully I can be the best sixth man in the Big 12 or be the best sixth man nationally."
Marcus played 22 minutes in relief, Markieff 12 as a starter. Both twins looked stronger, more energetic, more decisive than last season. They combined for 15 points, 11 rebounds and three steals. Fellow sophomore Tyshawn Taylor did nice defensive work in turning Hofstra's Charles Jenkins into a non-factor early in the game when KU built an insurmountable lead.
Freshmen Thomas Robinson and Elijah Johnson — even more athletic than the talented sophomore trio — will push them for minutes, which can only be a good thing.
At times, Robinson and Johnson will play like freshmen. Robinson did Friday against Hofstra's zone defense. Johnson played like a veteran.
"It's a big advantage being a sophomore," Marcus Morris said. "When you get on the court, you know what's coming."
Too often a year ago, spectators knew what was coming when the twins shot: an airball. Their mid-range shots looked better Friday.
"I think it's just confidence," Marcus said. "We could have shot like that last year, but we were kind of hesitant. Now we're shooting without thinking twice about it."
If the shot selection ever becomes poor, the coach can always substitute someone just as good.
More like this story on KUsports.com