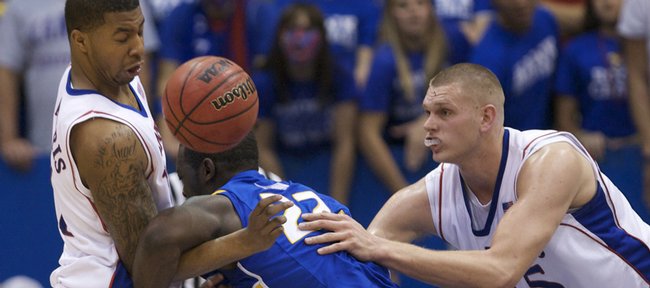 Hofstra junior Charles Jenkins set a personal goal before Friday's game against Kansas University: to take it straight at KU center Cole Aldrich.
"The funny thing is, today we were joking around, and I was telling my teammates if I get a chance to climb Mount Aldrich, I would," Jenkins said with a laugh. "But I didn't today."
Turned out Aldrich not only was unconquerable in Friday's 101-65 KU victory Friday, he also was a main reason that Jenkins struggled in the first half.
Jenkins, who averaged 19.7 points per game last season, had just five points on 2-for-8 shooting before halftime.
"(Aldrich) being a preseason All-American, I figured it would be great if he was in foul trouble, it would increase our chances," Jenkins said. "But, he's a smart player, so it didn't work."
Jenkins quickly realized that getting a shot over Aldrich was much more difficult than he originally had thought.
"I learned, I think, maybe the second possession when I went up, and he didn't move. Usually when I go up in the lane, guys try to at least take a charge or try to get out of the way, but he just stayed still," Jenkins said. "That's what makes him the player he is."
Aldrich finished with just two personal fouls in 24 minutes.
"He can just put his hands up, and he can block my shot," Jenkins said. "I think I was focused too much on trying to get him in foul trouble, which, it didn't work. So I just decided to play my game in the second half."
Jenkins, the preseason co-conference player of the year in the Colonial Athletic Association, finished with a team-high 23 points on 9-for-20 shooting in his first trip to Allen Fieldhouse.
"It's crazy playing here. I tried to prepare for it in my room. I tried to close my eyes and think what was going to happen when I came in here, but it's nothing like I imagined," Jenkins said. "The crowd is on top of you. I love playing here. This is probably the toughest place I've ever played.
"When you watch it on TV, they don't look as crazy. When you get in here, you see how high the bleachers go and how everybody has the same color on, how they're all excited and into the game. It was crazy."
Jenkins had to shut his cell phone off Thursday night after receiving too many calls from friends asking him if he was going to be scared playing against KU.
He said he'd remember one thing most about the Jayhawks: how hard they played.
"Even when they were up 20, any team would relax, but they still played as hard as they can every possession," Jenkins said. "That's something I want my guys to take from this. They didn't take any possessions off tonight, and that's something my young guys are going to learn, and we're going to get better this season."
Jenkins received a call from his favorite basketball player, former Syracuse guard Pearl Washington, Friday morning. Washington told him his strategy when facing top teams: just go after them.
Going after Aldrich, though, didn't exactly work for Jenkins.
"I was unsuccessful," Jenkins said with a smile, "but it was worth a try."
More like this story on KUsports.com