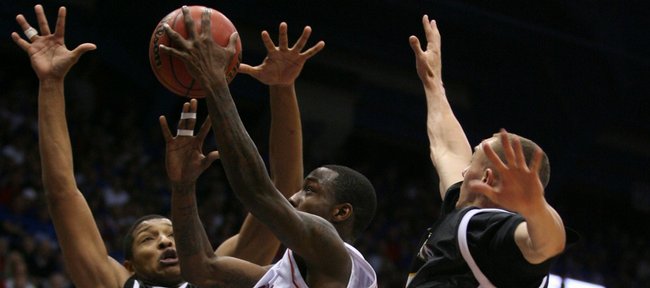 Tyshawn Taylor, who started 33 of 35 games his freshman season at Kansas University, came off the bench in Tuesday's exhibition opener against Fort Hays State.
The demotion wasn't because of injury.
It wasn't because of suspension.
It was because of crummy play at a practice a couple days ago.
"I've been going through a little bit on the court with coach. I haven't been doing what I'm supposed to be doing," Taylor said after scoring 15 points with five assists, four steals, two blocks and three turnovers in the Jayhawks' 107-68 rout of the Tigers in Allen Fieldhouse.
"Coach gave me a chance. I messed it up. He told me I was going to be starting, but I came out and didn't have any energy at practice. I was going through the motions. I wasn't going hard a couple days before the game so he took it away from me.
"I hate not starting. He knows that and took it away from me. Now I have to step up and go hard. I expect to be back (in starting lineup) soon. I don't know when, but I thought I played pretty well tonight, and that gives me some momentum."
The 6-foot-2 sophomore guard's starting slot went to junior Tyrel Reed, who had seven points and two assists. Taylor did start the second half in place of Xavier Henry (14 points), who picked up three fouls the first 20 minutes.
Taylor had four assists the second half, including a lob pass to Elijah Johnson that resulted in a vicious dunk.
"It's what we needed to get the crowd going. I thought it was a little dead in there," Taylor said. "He caught it, and everybody went crazy."
The crowd voiced its approval, as did KU coach Bill Self, who admits he has been less than pleased with Taylor at practice lately.
"That'd probably be an accurate statement," Self said. "He is careless. He made a couple plays today you definitely shake your head and say, 'Why would he do that?' He left his man open for a three. He's just careless.
"I thought he played great the second half," Self added. "He is really a good player."
Taylor shrugged off a first-half injury. Taylor, who dislocated his left thumb in September, dislocated his right ring finger in the first half of Tuesday's game.
He had two fingers taped together, and the injury didn't bother him in his 21-minute stint.
"It dislocated. They popped it back in and taped it up. I've got a bad thing for hands man, my hands get hurt a lot," Taylor said with a smile. "They put tape on it, and I was good. I'm good."
And he said he'll be ready to go at practice the rest of the way after this wake-up call.
"I've not been working that hard, not doing little things that coach gets frustrated with me about," Taylor said. "He keeps telling me I'm making the same mistakes.
"He's a fair coach. He treats everybody the same. I have not been playing well so I don't expect to start. If somebody else is not playing well, they shouldn't start. If you play good the days before the game, you'll start. If not, you won't."
Sherron Collins led the way with 19 points on a night six Jayhawks scored in double figures.
"I thought since Cole (Aldrich, 13 points, 13 rebounds) had one basket and Sherron didn't score much early, we scored the ball a lot better than I thought we would if those guys weren't involved in the scoring," Self said. "It looks to me we have more weapons than last year."
KU will meet Pittsburg State at 7 p.m. Tuesday in the final exhibition of the preseason.
More like this story on KUsports.com