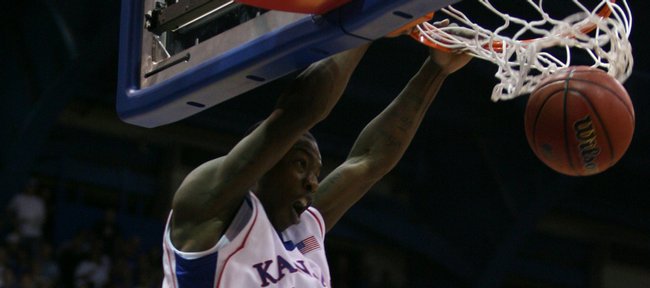 Reader poll
Xavier Henry

38%

967 votes

Thomas Robinson

16%

421 votes

Elijah Johnson

37%

932 votes

Undecided

7%

181 votes
2501 total votes.
Audio clips
2009 KU-Fort Hays State basketball
Videos
KU vs. Fort Hays State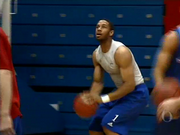 KU men's basketball got ready for the 2009-10 season with an exhibition matchup against Fort Hays State Tuesday, Nov. 3, 2009 at Allen Fieldhouse.
Reader poll
Travis Releford

35%

1437 votes

Mario Little

8%

367 votes

Both Little and Releford

47%

1957 votes

Neither of them

5%

237 votes

Other

2%

88 votes
4086 total votes.
Given the presence of softies on a nonconference schedule that features Allen Fieldhouse visitors Central Arkansas, Tennessee Tech and Alcorn State, the crowd will need something other than suspense to stave off daydreaming.
Enter Elijah Johnson, Kansas University's 6-foot-2 freshman from Las Vegas. Pity the poor folks who sit courtside when Johnson is in the game. You want to get an up-close-and-personal view of him playing basketball, grab a seat in the rafters and watch him kiss the sky.
When he dunks, spectators turn to their programs to make sure they read his height right. Is he really just 6-2? He is. Not only that, he had knee surgery in the summer. He jumps the way his godfather, Houston Astros relief pitcher LaTroy Hawkins, throws a baseball. Hard.
Johnson's first bucket in Tuesday night's 107-68 exhibition victory against wickedly overmatched Div. II foe Fort Hays State came on a run-out. He slammed it with his right hand. In the second half, Tyshawn Taylor set him up with a perfect lob that he turned into another crowd-pleasing dunk.
"It felt great," Johnson said of the first slam. "It was unexplainable. Especially to have a breakout like that. I'll never forget it. It was just adrenaline pumping 100 percent. The crowd going crazy, playing in front of that many people for the first time, it was great."
That explains the smile on his face the entire time he was on the floor. Clearly, he loves to play the game. More important, he knows how to play. He's more than a freakish athlete. Sure, he was a little out of control at times. So is nearly every other super-quick freshman. Remember all of Tyshawn Taylor's early-season charges a year ago? Taylor's finishing with far better body control now, and Johnson will follow the same path.
Part of Johnson's wild streak could be attributed to pregame nerves.
"I was going crazy at first," he said. "I couldn't warm up right. ... Marcus Morris told me to think about something funny. I couldn't. But he said something funny, and that was it. I was calm."
At times when KU coach Bill Self looked at his deeper-than-Socrates roster, he thought about what to do with Johnson.
"We were thinking strongly about red-shirting Elijah," Self said. "I'm not feeling that. I think he can impact our team."
Self praised Johnson's ability to make passes on the fast break that lead to easy buckets and pointed out his need to take better care of the basketball. In 20 minutes, Johnson scored nine points and had two assists and four turnovers. What would he change about the night?
"Nothing," Johnson said. "Not even my mistakes. I appreciated everything I did out there. When I charged. When I threw the ball out of bounds. Everything. Now I learned something from the night. If I did nothing wrong, I wouldn't have anything to gain from tonight."
He's talented, eager to learn, plays against Taylor and Sherron Collins every day in practice and will learn how to play defense from Self. You won't find a safer wager than to bet on this young man from Vegas having a bright future.
More like this story on KUsports.com