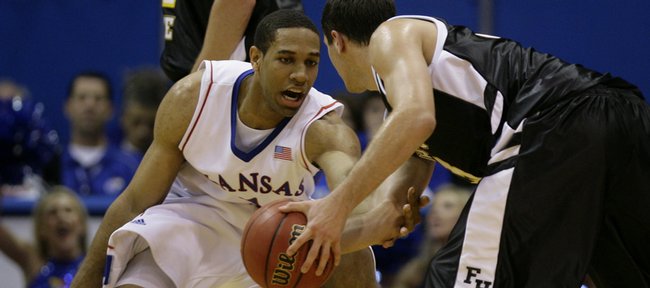 More from the game
Reader poll
Xavier Henry

38%

967 votes

Thomas Robinson

16%

421 votes

Elijah Johnson

37%

932 votes

Undecided

7%

181 votes
2501 total votes.
Audio clips
2009 KU-Fort Hays State basketball
Videos
KU vs. Fort Hays State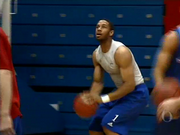 KU men's basketball got ready for the 2009-10 season with an exhibition matchup against Fort Hays State Tuesday, Nov. 3, 2009 at Allen Fieldhouse.
Reader poll
Travis Releford

35%

1437 votes

Mario Little

8%

367 votes

Both Little and Releford

47%

1957 votes

Neither of them

5%

237 votes

Other

2%

88 votes
4086 total votes.
Willie Hassell left Allen Fieldhouse with one main impression of the Kansas University men's basketball team.
"They lived up to the hype tonight," the Fort Hays State guard said after KU's 107-68 exhibition victory. "They have great players, man. They just proved why they're No. 1."
The Tigers couldn't slow down the Jayhawks defensively, as KU made 53 percent of its shots from the floor.
"How good they shoot — that impressed me a lot," Hassell said. "I've never seen a team shoot like that, with defense in their face and everything. You can tell they practice that a lot."
FHSU stayed close through most of the first half, trailing just 42-31 with 3:08 remaining.
KU guard Sherron Collins scored the next eight points, though, helping the Jayhawks extend their lead to 54-35 at the break.
"The two most important positions on the court is your center and the point guard," FHSU coach Mark Johnson said, "and I think they have that covered pretty nicely."
The Tigers were most impressive from the outside, hitting 10 of 26 three-pointers (38.5 percent).
Though FHSU had 21 turnovers, Hassell said that wasn't a bad number considering the circumstances.
"I was nervous," Hassell said. "With the crowd and with the hype about them being No. 1, it was kind of hard to sleep (Monday night)."
FHSU also battled foul trouble. The Tigers were whistled for 30 personal fouls and had four players foul out before the final media timeout.
KU shot a whopping 43 free throws, making 36 of them.
"There was a size differential out there," Johnson said. "I've got to think that our guys were trying to do their best to battle down there."
The Jayhawks' athleticism showed in the statistics, as KU had 13 steals and 10 blocks.
"I think they have a lot of good players, and I think that (KU) coach (Bill) Self will tell you that they have a lot of work to do, just like any team this time of year," Johnson said. "I think that they have a lot of pieces to the puzzle, and he will get them to play the way that he wants them to play. That is for sure."
Hassell said he'd leave Lawrence telling his friends about the atmosphere at Allen Fieldhouse.
"It's crazy," Hassell said. "I wouldn't mind playing here every day."
More like this story on KUsports.com