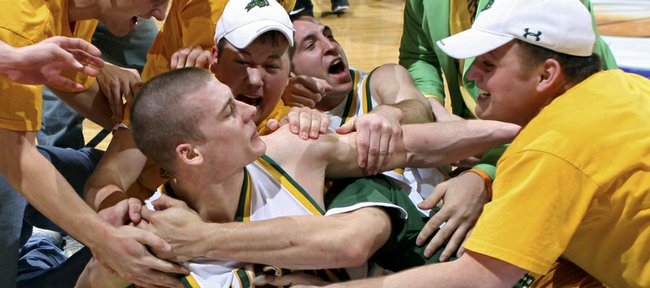 Steven Davis, who worked as a Kansas University basketball team manager from 2002-05, just completed his first season as the radio play-by-play voice of UMKC's Kangaroos.
As such ... he worked a pair of North Dakota State's basketball games: UMKC's 65-60 overtime loss to the Bison on Jan. 17 in Kansas City and the Roos' 87-49 blowout defeat in the rematch on Feb. 12 in Fargo, N.D.
His reaction on Sunday when it was announced that his alma mater would play the Bison of the Summit League at 11:30 a.m. Friday, in a first-round NCAA Tournament game in the Metrodome in Minneapolis?
"Actually I was kind of excited," Davis said. "I know what a fun matchup it'll be to see Sherron (Collins) versus (Ben) Woodside and I know how excited Cole (Aldrich, KU center from Minnesota) must be in getting to go home."
The 5-foot-11, 200-pound Collins averages 18.3 points and 5.0 assists a game; the 5-11, 185-pound Woodside 22.8 points and 6.3 assists. Collins has 161 assists versus 107 turnovers; Woodside 202 assists against 98 bobbles.
"He is everything you want in a senior point guard. He is a coach on the floor," Davis said of Woodside, who hails from Albert Lea, Minn. "He is playing for a coach who went undefeated as a point guard in college (Saul Phillips ran the point for Bo Ryan's unbeaten Wisconsin-Platteville team in 1995). That says more than anything right there. His coach trusts him to run the show."
Woodside has made 221 of 481 shots for 45.9 percent. He's made 64 of 150 threes for 42.7 percent.
"He will pull up and shoot or sometimes pass off and they run him off screens," Davis said. "He's a little like Sherron in that he is big and physical and not afraid to go inside. He's a lot quicker than he looks."
NDSU's second-leading scorer is Brett Winkelman, a 6-6 senior forward who averages 18.7 points and 7.4 boards.
"He's probably the second-best player in the Summit League (behind Woodside)," Davis said. "He can post a little bit, stretch it out, shoot threes (39 of 102 for 38.2 percent) and is very athletic as well."
Davis saw the veteran Bison team (four fifth-year senior starters) play awfully well one night and ordinary on another.
The difference?
"They called the game in Kansas City their worst game of the year. They could not score," Davis said. "We ('Roos) got after them on defense, but they were not hitting shots. It's rare for them to have a night nobody is hitting shots. They were all off, but still managed to get a win. Woodside took over late, got to the line and made plays down the stretch. It's what good veteran teams do and they are a good, veteran team."
Of the Roos' blowout loss in Fargo, Davis said: "Their fans love their sports. They had a pretty good crowd for us on a Thursday night late in the season against a team at the bottom of the league (3,633 fans in 6,000-seat Bison Sports Arena). The game got out of hand in a hurry."
As far as how best to beat the 26-6 Bison, who play an aggressive man-to-man defense, Davis, the son of KU radio play-by-play announcer Bob Davis, suggested: "Guard them, get after them defensively, try to take them out of what they do.
"They do have some size," he added, referring to 6-10 center Lucas Moormann. "They won't be intimidated going against a post presence. I think it'll be a fun game."
More like this story on KUsports.com