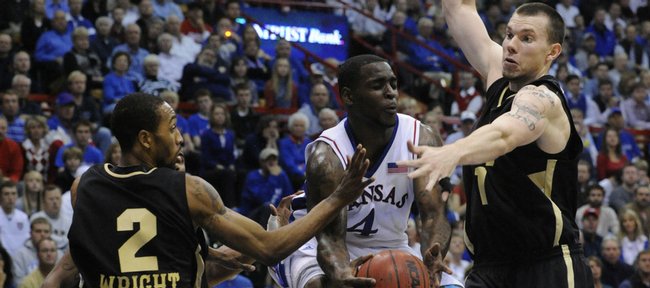 The McDonald's All-American basketball game is a showcase for individual talent. Team play rarely is discussed, except when legendary UCLA coach John Wooden is interviewed from his seat in the stands and shares his displeasure with the game.
It's all about style, flashy plays, scoring points. It's a cross between a high-jumping competition and a game of H-O-R-S-E. Sherron Collins, then representing Crane High in Chicago, made a splash in the game when on a fast break he threw the ball off the glass and slammed it home. When in Rome, do as the Romans do.
Four years later, that play is about as far from who Collins is as a basketball player as the way Kansas played in dumping Oakland University, 89-59, is from the way high school all-star games are played.
The Jayhawks committed just six turnovers, none from Collins, who had all nine of his points and six of his seven assists in the first half.
Playing for a team that didn't have a consistent third scorer, Collins averaged 18.9 points last season. Four games into his senior season, he's averaging 14 points. These days, he seems to be deriving even more pleasure from setting up teammates than from scoring.
Collins can get a shot any time he desires, but he knows that's not always the way to go. Three times with the ball in his hands, Collins pointed a finger in the air, and freshman Xavier Henry cut back-door and soared to catch a perfectly placed lob from his point guard.
In four games, Collins has committed just five turnovers, fourth-highest total on the team. He's shooting .556 overall, .444 from three-point range. He leads the team with seven steals and ranks second to Henry in scoring.
"That just speaks to how good of a teammate he is that he can be the leading scorer, 19 points last year, when he gets a better team around him he doesn't ball-hog it to make himself seem like a better scorer," Henry said. "He feeds the ball around. I'm sure it makes it easier for him, but it makes it easier for us, too."
Oakland, which has three very good Div. I players and is picked to win the Summit League, isn't a particularly aggressive defensive team. Even so, Kansas moved the ball phenomenally well considering it's November. It all starts with Collins. Anybody who came into the season worried that Collins would have trouble with the possibility he wouldn't be the team's leading scorer doesn't know the guard as well as his coach does.
"I haven't had any concerns about Sherron really since I've coached him," seventh-year Jayhawks coach Bill Self said. "... It doesn't surprise me. That kid wants to win. That kid wants to leave a legacy behind, and he knows the only way he can do it is by winning, and I'm real pleased with him."
Self said Collins was sick and threw up at halftime. He threw up just one second-half shot, but still influenced the game in a positive way.
"I never would have thought our three returning leading scorers (Collins, Cole Aldrich, Tyshawn Taylor) would combine for 19 points and we'd win by 30," Self said. "In large part the reason we did is Sherron understands we've got to bring those young guys along. ... His attitude's been unbelievable."
More like this story on KUsports.com