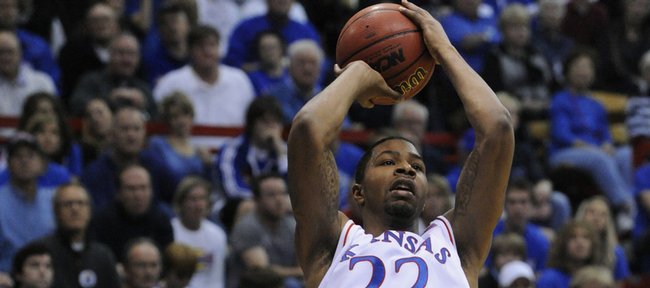 Marcus Morris, who had missed three of his previous four free throws, caressed the basketball and gave it a little kiss.
The result of his act of affection?
First one swish from the line.
Then another.
"I've got to have a good connection with the ball. I felt the connection was off, so I grabbed it, kissed it and said, 'Please go in.' Maybe I'll do that every time from now on," Morris said after scoring a career-high 19 points and tying a career high with 11 rebounds in Kansas University's 89-59 rout of Oakland on Wednesday night in Allen Fieldhouse.
Morris, who hit six of 10 shots, including two of three three-pointers and also went 5 of 8 from the line, received a loud ovation from the student section after his free throw make with 13:18 left and KU up, 53-33.
He pointed a finger in the air, but not in response to his fans.
That gesture was for his mom, Thomasine.
"That was funny because I think about my mom every time I shoot free throws," Morris said. "Every time I miss a free throw, I can hear her in the stands saying, 'Bend your knees.' I can actually hear her.
"I'm like, 'Mom, that doesn't have anything to do with me missing a free throw. I can stand straight up and still miss it.' I bent my knees on that one and made it. It's why I started laughing more. It's why I pointed up in the air, because I knew she was watching."
Morris — as one might correctly infer from his bubbly postgame chat with reporters — had a blast Wednesday in scoring from both inside and out. He and brother Markieff (eight points, four boards) as well as Xavier Henry (19 points, five boards) helped pick up the slack for Cole Aldrich, who had an off night with four points off 2-of-10 shooting with nine rebounds.
"I guess their coach told them to play off me. I was wide-open," Marcus Morris said. "Coach (Bill Self) told me, 'If they are going to drop down in the lane, we know you can shoot and make it.' If they are playing in the lane, I hope I make it."
Of Aldrich's play, Marcus Morris said ... "Cole is a preseason All-American. He knows what he is doing wrong and what he has to do to correct it. He knows he had a bad night and will bounce back. Coach said, 'Cole you had a bad game. You'll get better next game.'''
Self was impressed with Marcus Morris' play and not alarmed at the play of Aldrich, who has been battling flulike symptoms the last several days.
"I thought he was the best player in the game," Self said of Morris. "He did a little bit of everything, showed range and some post moves. He didn't get any easy baskets and scored 19.
"Cole has gotten off to a bad start. That's not being negative, that's just being factual," Self added. "He is so much better than what he is playing like right now, but his attitude has been great.
"He won't dwell on that. It's a different deal for him. Here's a guy who scored seven points his freshman year that anybody remembers (in Final Four semifinals). Next thing you know, he's a third-team All-American last year. Now there's a different pressure. Everybody's thinking he should be this, that. I think he's handled it well, but he's never gone through that. He's been a blend guy. He made some moves tonight where the ball just didn't do down.
"The biggest thing with him is he'll get his confidence back, his swagger back," added Self, who indicated the Jayhawks pounded it into the big man better than they have all season.
"He just didn't finish. He will. I think he's the best big man in the country. He hasn't played to it yet. He will."
KU, which led 37-22 at half, will meet Tennessee Tech at 7 p.m. Friday in Allen.
More like this story on KUsports.com