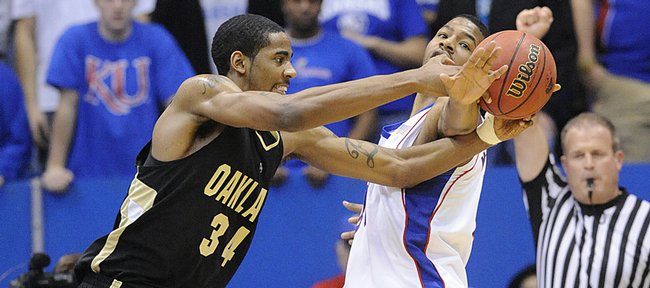 One is 6-foot-11, 245 pounds and is a household name throughout college basketball. The other measures 6-11, 225 and somehow has managed to keep a low profile.
Both have NBA futures, and Wednesday night, during Kansas University's 89-59 victory against Oakland at Allen Fieldhouse, the lesser-known of the two showed why.
Wednesday's game wasn't exactly billed as KU's Cole Aldrich vs. Oakland's Keith Benson, but that's the way Benson, the Grizzlies' junior, approached the battle. For one thing, it was a chance for him to play against the guy he roomed with this summer at the Amar'e Stoudemire Skills Academy in Phoenix. For another, it was a rare chance for a Summit League star to showcase his talent in front of a few more sets of eyes than usual.
"I'm not really known to the level he's known," said Benson, who finished with 20 points, six rebounds and four blocks. "So I just get excited about games like this, where I get to play on the big stage and show what I can do in front of everybody."
Benson was good throughout Wednesday's game. He showed a soft shooting touch (7 of 13 from the floor), was perfect at the free-throw line and, for the most part, avoided foul trouble long enough to log 37 minutes.
"I thought he played really well tonight," Aldrich said. "I wish I would have played a little better against him, but he hit a couple of baseline shots where I thought to myself, 'Man, you can't play much better defense than that.' He's quiet. He's a good guy. I like him a lot, and I thought he played a great game."
If Oakland coach Greg Kampe had been able to rest Benson for just a few minutes longer, the veteran coach said his potential first-round draft pick might have put up even better numbers.
"I thought (Benson) showed well," Kampe said. "I played him too many minutes. I would've liked to get him a little more rest. But I thought the only way for us to win was to keep him in there."
For a good chunk of the first half, it was clear that the Grizzlies were not intimidated by the surroundings or KU's glossy No. 1 ranking.
"We came here to win," Kampe said. "We came here to win."
Despite shooting just 25 percent during the game's first 12 minutes, the Grizzlies trailed by just seven and seemed to be on their way to playing with the Jayhawks (4-0) for the entire night.
"We were controlling the tempo, keeping it slow, and we thought if we could rebound and not give up transition buckets that we could play with them," Kampe said. "But then they come down and go dunk, layup, dunk, and, boom, it's gone. All that work is gone because we made a mistake or two. It's a learning experience, and that's why we play these games, but we're highly disappointed with the outcome."
It wasn't all about Benson for Oakland (2-3) on Wednesday. Derick Nelson scored 19 points on 4-of-5 shooting from three-point range, and Johnathon Jones added nine points and seven assists. But the Jayhawks' focus seemed to center on and stay with the big guy until the end.
"Kansas guarded the hell out of him," Kampe said. "They beat him up and doubled him all night. And they doubled him with size. In our league, he's not going to see many 6-10 guys run at him on the double team. He'll see 6-7 or 6-8 guys."