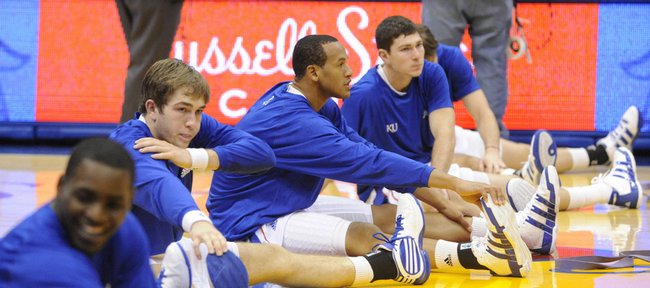 Cole Aldrich's dream Thanksgiving Day dinner consists of turkey and mashed potatoes, as well as ...
"Lefse, if you know what that is," said Aldrich, Kansas University's 6-foot-11, 245-pound junior center, who has a voracious appetite for traditional dishes, as well as those popular up North.
"It's a Minnesota thing," the Bloomington native explained. "It's like some type of potato bread. You get a little butter and sprinkle it on there."
Lefse — for those with food on their minds today on Turkey Day — is a soft Norwegian flatbread made out of potato, milk, cream and flour, cooked on a griddle, often served with coffee as a cake.
At least, that's what Wikipedia says.
"It's good," Aldrich said.
Unable to make it back to Minnesota with two games in three days, Aldrich will dine, practice — and watch football — with teammates today.
"I guess you could consider Thanksgiving a trap day. It's a day you really look forward to, but you also look forward to getting ready for a game, too," Aldrich said.
KU sophomore Marcus Morris — who said he's most thankful for "where I come from and how far I've come, my mother, my brother, my coaches, my teammates and the whole situation I'm in at KU" — said he's ready to chow down some of his mom's cooking today.
"I like turkey and cornbread. I really like cornbread. Nobody has better cornbread than my mom. I've got to put that out there," Morris said.
Coach Bill Self also loves to sit down to a hearty homecooked meal, especially on a holiday.
"We'll practice at 11, then we'll eat," said Self.
Eat what?
"Turkey and dressing," Self said, explaining, "we'll have our families up here, (wife) Cindy's folks and mine. My sister and kids ... everybody's coming in here this year. We have enough players with families in the area that most have a place to go. Guys who don't will eat with us.
"Nothing too special. We'll practice just once, watch a little football and let the guys get full."
Those players not getting full at the Self residence in all likelihood will be at the house of KU junior/Lawrence native Brady Morningstar.
Brady's mom, Linda, has planned on a huge meal, one for which some of the players' mothers who are in town also will help.
"I'm bringing greens, collard greens," said Stacey Harris, mother of Sherron Collins. "It's something all the boys like. I think some of the mothers will be bringing cakes and desserts."
Harris, who recently moved to Lawrence for her son's senior season, is thrilled to be spending the holiday with Sherron.
"This is the first Thanksgiving where I've seen him in four years. He'll probably be a little clingy," she said, laughing. "He likes Thanksgiving food, (but) during the season he tries to watch what he eats."
More like this story on KUsports.com