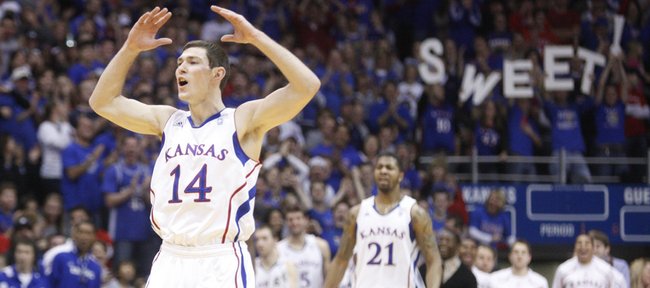 During halftime of a game before winter break, Kansas University basketball coach Bill Self finally got through to KU guard Tyrel Reed about his lack of rebounding.
"He kind of made a joke like, 'You've got a 40-inch vertical. Why don't you use it?'" Reed said.
Reed, talking after KU's 83-56 victory over Miami (Ohio) on Sunday, said something clicked for him following the coach's comment.
The guard felt like he was wasting his athleticism.
"I think everyone laughed and everything," Reed said, "but in my heart, I was like, 'Hey, man, that's the truth. I've got to do a better job with that.'"
In practice, Self emphasizes that his players "hit and go get it," meaning they should first hit their man to box him out, then make an effort to get to the ball.
After spending most of the season executing only the first part, Reed has been more aggressive getting to rebounds lately.
The senior has grabbed at least four rebounds in each of his last three games. During that span, he has averaged five rebounds per game, which is impressive considering that coming into the season his career high for rebounds in a game was five.
The 6-foot-3 guard contributed four boards against Miami in what was a dominating rebounding effort for KU.
The Jayhawks outrebounded the RedHawks, 46-17, after holding a 25-8 rebounding edge at halftime. KU also had more offensive rebounds (16) than Miami had defensive rebounds (12), meaning that after a KU missed shot, the Jayhawks were more likely to get the carom than the RedHawks.
"We had a beatdown on the glass, which is the best that we have rebounded the ball," Self said. "I think a big key to that is that we had guys running towards the ball. We just seemed like a much more aggressive team today."
Reed wasn't the only KU guard to step up his rebounding against Miami. Josh Selby notched a career-high seven rebounds, while Tyshawn Taylor tied his season-high with four and Elijah Johnson added two.
More like this story on KUsports.com