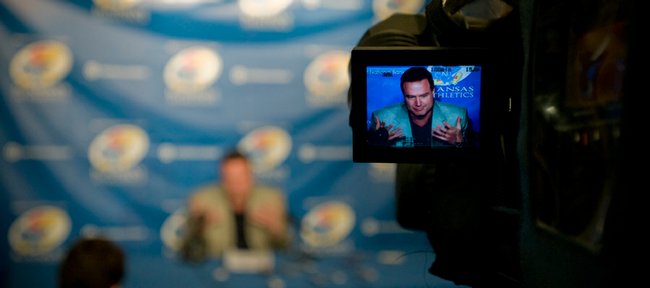 Cole Aldrich's cell phone started ringing in the Naismith Room of Allen Fieldhouse late Sunday afternoon — just seconds after CBS-TV revealed that Kansas University's basketball team would be playing North Dakota State at 11:30 a.m. Friday in the Metrodome, located in Aldrich's beloved home state of Minnesota.
"I had a few friends say, 'Congratulations being in Minnesota and being a No. 3 seed,'" Aldrich said.
Kansas is seeded third in the Midwest Region.
Aldrich hails from Bloomington, Minn., which is located 10 miles from the 'Dome, site of the first-round NCAA Tournament contest.
"It's a warm feeling knowing all my friends are excited to see me play and excited to see us as a team play," Aldrich added.
Just as Cole patiently answered calls from well-wishers Sunday, so did his dad, Walter, back home in Bloomington.
"The phone hasn't stopped ringing," Walter Aldrich told the Journal-World in a phone interview two hours after the Selection Sunday show.
"I feel like I'm working at Ticketmaster."
"This is not a real surprise. We had a good hankering KU would be playing here. I know a lot of Cole's friends and relatives want to see him play. Have you got any connections for tickets?" Walter cracked.
Cole's allotment of four tickets will go to his mom and dad, brother and grandmother. It's possible Cole can round up some other tickets from teammates.
"I'm excited," Cole Aldrich said of playing in the Metrodome, where he remembers watching the Minnesota Vikings as a youngster, but has yet to play in a game.
"I hope it's 85 (degrees), but it's probably going to be 15. I'm not worried about going back home and it being home. I'd loved to have played in Kansas City. Whether in Boise, Kansas City or anywhere else, we're just excited to go out and play again."
Oklahoma was the Big 12 team to land a spot at Kansas City's Sprint Center. The Jayhawks were shipped to Minnesota as a No. 3, and Missouri also was sent packing to Boise as another 3.
"I don't have anything against the location. I selfishly would have liked to have been in Kansas City, but we knew that probably wasn't going to happen after we didn't do well in Big 12 tournament," KU coach Bill Self said, noting KU would have flip-flopped locations with Oklahoma had the Jayhawks garnered a No. 2 seed and OU a 3.
"Certainly it's good for Cole. It's a good chance to go back and play in front of his friends and family. I told Cole we were going to try to schedule Minnesota, but I didn't know we would get him back home this way."
Self has no beef with the NCAA Tournament committee for awarding the Sooners a better seed than the Jayhawks despite the fact KU beat the Blake Griffin-less Sooners in the regular season.
"I think if you look at the entire year and don't break it down to nonconference and conference, I think that you could say that OU had a better year," Self said. "I think when you look at conference, I think it's obvious that we had a better conference year than they had. But I think that their nonconference was better, that the separation was probably a little bit better than our separation during conference play.
"What we needed to have happen for us to be a 2 seed in Kansas City was to play better in the Big 12 tournament. We didn't have to win it, but I think beating Baylor (in first round) would have gotten it done. I think we got exactly what we should have gotten, to be honest with you, so I'm not complaining one bit at all."
Self did note that the Jayhawks did "have as many Top-25 wins, maybe more than anybody in the country. We were 6-3. If we had done better in that setting (Big 12 tourney), I think there would have been evidence to support us maybe being a little higher seed."
He is concerned about the first-round foe — N.D. State (26-6). Winner plays the winner of a first-round matchup between West Virginia and Dayton at either 1:30 or 4 p.m. Sunday at the 'Dome.
"I like Minneapolis fine, but it's pretty close to North Dakota," Self said. "Based at how many people they had at their selection show (2,000 in Bison Sports Arena in Fargo), you know they'll have some fans there.
"Hopefully since the game is on Friday I'd think it's better for KU fans to travel because they'd miss just one day of work."
Self appreciates the story of the Bison, champions of the Summit League.
"It's a great story," Self said. "It's their first year to be eligible for the tournament. Not their first year in Div. I, but you have to kind of go through a probationary period. This is their first year to be eligible for the tournament, to win it. They also red-shirted multiple guys to play for this moment. As an outsider looking in, that's totally objective, I was really happy for them. I'm not nearly as happy for them now as I was last week when I watched them play in the tournament.
"They shoot the ball extremely well. Of course they have the player of the year in their league (senior guard Ben Woodside). You look at their stats, the top-four scorers hit a ton of threes, and they shoot 41 percent as a team from three-point range. We will definitely have our hands full."
More like this story on KUsports.com