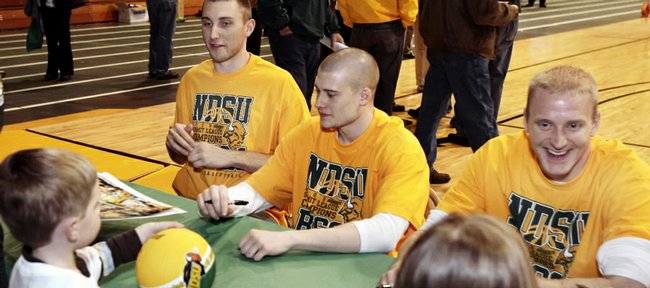 The success or failure of a college basketball team sometimes can hinge on a single decision, and in months leading up to the 2004-05 season, a group of North Dakota State coaches made one that eventually would prove to be as important as any other in the program's history.
At the time, the program was in the process of jumping from Div. II to Div. I, meaning that, due to NCAA rules, the Bison would be unable to compete in postseason play until the 2008-09 season. For the team's in-coming freshmen that year — a talented group of guards Ben Woodside and Mike Nelson and post players Lucas Moormann and Brett Winkelman — that meant no chance of playing in the NCAA Tournament during their collegiate careers.
So the members of the coaching staff proposed an idea that, five years later, would pave the way for the program's first NCAA Tournament berth in school history: They suggested that all of those incoming freshmen spend the season as red shirts.
"We thought that 23-year-olds obviously play better basketball than 18-year-olds," says current head coach Saul Phillips, then an assistant for the Bison. "Think of that city-league team that every year beats the younger, more athletic team, just because they have experience."
The players pondered the idea. Many came from small towns in Minnesota and North Dakota. None had warranted a Div. I scholarship to any school outside of the Dakotas. All figured that a chance to play on college basketball's grandest stage — even if it was a slim chance, and even if it wouldn't come for five years — was about as good as anyone could hope for.
So it was decided: Each of the team's four freshmen would red-shirt his first season, the hope being that, with four years of experience to fall back on, they would be in the best possible position to take advantage of their sliver of opportunity in 2009.
As Woodside, a 5-foot-11 guard out of Albert Lea, Minn., put it, "We put a lot of our eggs in one basket."
The ensuing four years weren't easy. Because of the classification switch, the program faced a number of hurdles. For the first three years of the players' career, the Bison didn't have a conference, playing three straight seasons of what ultimately amounted to exhibition games. The next year, Phillips took over as head coach, the team joined the Summit League, and the Bison finished 18-13 — a solid record, to be sure, but not exactly one that inspired visions of NCAA Tournament glory.
Then came the start of the 2008-09 season, and a funny thing happened: The team's seniors, whose frames had been molded by an extra year of weight training and conditioning, shone. Woodside, Winkelman and Nelson each averaged double figures in scoring. Moormann was third on the team in rebounds and second in blocks.
The Bison closed the regular season on an 15-1 run, and, following a victory over Oral Roberts in the regular-season finale, they entered the Summit League tournament as the No. 1 seed and knocked off their first two opponents — Centenary and Southern Utah.
One more hurdle to go.
They were in the championship game — down 14 points late in the first half to Oakland, struggling, watching five years of work quickly slip away.
Somehow, though, they managed to close the gap to 62-57 with five minutes remaining. Somehow, they managed to take a 64-62 lead two minutes later. And somehow, after an Oakland field goal with 11 seconds to go tied the game, Woodside got off a 17-foot jumpshot.
And now it was all even more unthinkable. Five years whittled down to four seconds, down to one shot. Woodside — whose efforts have been so tightly intertwined with the success of the program during the past four seasons — rose and released and, with nothing less than his and his teammates' careers on the line, watched as the ball fell through the net.
North Dakota State, in its first postseason competition in five years, had earned a conference title, and, along with it, a guaranteed berth in the NCAA Tournament.
The Bison returned home to Fargo, N.D., and a few days later, there they were, gathered together to watch the announcement of the NCAA Tournament pairings, going wild as the selection committee tapped them as the 14th seed in the Midwest Region.
"It's just completely fulfilling," Nelson said. "There was no guarantees that we were going to make it this far. And now that it's actually happened and it's panned out this way, it's just unbelievable."
Now, they'll face a Kansas University team that won the regular-season Big 12 title and is still smarting from an unusually early exit from last weekend's conference tournament.
The Bison have faced talented teams this season. They matched up against Minnesota and USC — both of which earned NCAA Tournament bids — and nearly pulled off an upset of the Trojans on Dec. 20.
Don't expect the Bison to be intimidated by the storied Jayhawks.
After all, said Phillips, "The chain of events that has gotten us to this place is probably as remarkable as you'll find in college basketball."
More like this story on KUsports.com