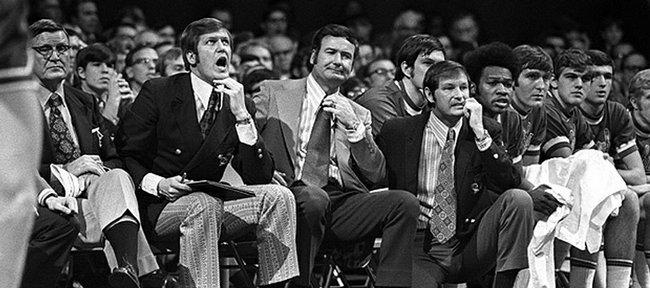 Bob Frederick knew the NCAA Tournament selection committee couldn't please everyone after it revealed the men's basketball bracket Sunday night.
He probably knows better than anyone.
Frederick, Kansas University's athletic director from 1987-2001, served as chairman of the NCAA selection committee in 1995 and 1996.
"I think everyone understands it's not an easy task," Frederick said.
This year, bubble teams like Davidson, Florida, Penn State and Auburn were left out of the tournament. Frederick said he knew what the current committee members went through: criticism and heat for some of the teams that were left out.
It's just part of the process.
Here's how the process worked, at least when Frederick was committee chairman: Frederick and eight other committee members, most of whom were athletic directors or conference commissioners, met Thursday-Sunday at the top floor of the Hyatt Regency in Kansas City, Mo. It was like their war room.
There was one computer in the back of the room. A committee member would print out statistics from every school imaginable ("You'd get overloaded with information," Frederick recalled). Frederick and his committee members then would go to work for hours upon hours. They didn't pull all-nighters, though.
"We stayed up late sometimes, Frederick said. "Up to midnight. We tried to stop before that."
The most difficult part of the entire process?
"The biggest problem was trying to discern between teams that looked an awful lot alike," Frederick said. "Nobody's going to agree with all of your decisions, but as long as you do know you've done it fairly and honestly."
Asked if he missed the mayhem that went into setting the stage for March Madness, Frederick didn't hesitate.
"Yes, absolutely," he said. "It was the highlight of my professional career, being in the middle of that tournament and being involved with the selection of those teams."
Frederick resigned from his athletic director post in 2001. Presently, he teaches classes in KU's sports-management program.
He has kept close tabs on Kansas (25-7), which will open the tournament as a No. 3 seed at 11:30 a.m. Friday against No. 14-seeded North Dakota State (26-6) in Minneapolis. The No. 1 seed in KU's Midwest region is Louisville, while Michigan State is the 2 and Wake Forest the 4.
"I'm looking at the top four seeds in each of the four regions, which is what I immediately do, and I think that's a really strong bracket," Frederick said of the Midwest. "In studying it over the years, in my estimation, there's more parity this year than ever before. I think anyone ranked in the top 16 has a chance to win the national championship."
It's unlikely Frederick will attend games at the Metrodome: "I'll have 74 facilities projects and 73 marketing projects to grade," he quipped.
He will, however, attend the Final Four in Detroit. It's one of the perks as a basketball committee alumnus.
"We have lifetime tickets and hotel rooms," Frederick said. "We have to pay for them, but they're available.
"I just hope Kansas does well."
More like this story on KUsports.com