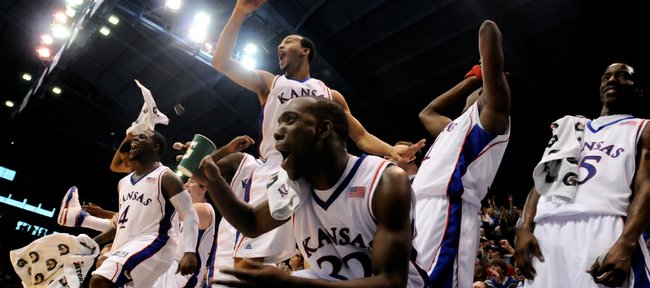 For the Kansas Jayhawks, the Road to the Final Four leads 480 miles to the Hubert H. Humphrey Metrodome in Minneapolis, Minn.
And plenty of fans will be joining Bill Self's defending national champions for the ride.
"Alumni always flock to wherever the team will be playing, and this year will be no different," said Jennifer Sanner, senior vice president for the Kansas University Alumni Association. "It's just wonderful to watch every year. It never gets old."
The Jayhawks will take their 25-7 record into their 20th consecutive NCAA Tournament, extending a streak that has given fans plenty of reason to plan ahead early and often for postseason pilgrimages.
"This is what you live for," said Jim Marchiony, an associate athletics director at KU. "This is what you play for. This is what you work in college athletics for. Postseason play in any sport is everybody's goal."
And given such postseason anticipation — and following on last year's monumental success, with KU winning six consecutive games to secure the school's third NCAA championship and fifth national title — getting tickets also proves to be something of a challenge.
Marchiony and his colleagues always satisfy the needs of the team — players, coaches, staffers and their families — before turning their attention to everybody else. Of the remaining tickets, KU students, faculty and staff will share 15 percent, while the remainder will go to members of the Williams Fund, the donor organization for Kansas Athletics Inc.
KU expects to have details of its ticket allotment by 8:30 a.m. today, when people can call the KU Ticket Office — 864-3141, or 1-800-34-HAWKS (1-800-344-2957) — to check on availability.
For those who can't wait till 8:30 a.m., tickets are already available at the University of Minnesota's Web site gophersports.com. An all-session ticket, which covers admittance for the four opening round games Friday and two games Sunday, costs $193. Single-session tickets will go on sale Thursday at a cost of $71.
A Minnesota athletic department official said Sunday that 12,000 tickets had already been sold for Friday's games in the Metrodome, which seats 32,000 for basketball.
"The great thing about Kansas basketball is the passion of the fans, and they love to travel to support their team," said Marchiony, who noted that information about potential travel packages would be available throughout the tournament at KUAthletics.com.
For fans making the trip to the first-round site, the KU Alumni Association promises to be there with all the usual materials: stickers, beads and other accessories to outfit the KU faithful. Pep rallies also will be organized leading up to the first of what leaders hope will be six consecutive games.
Just like last year.
"The Big 12 (regular season) championship gives folks a lot of optimism," said Sanner, a 1981 KU grad. "There's always the notion that anything can happen in the tournament."
More like this story on KUsports.com