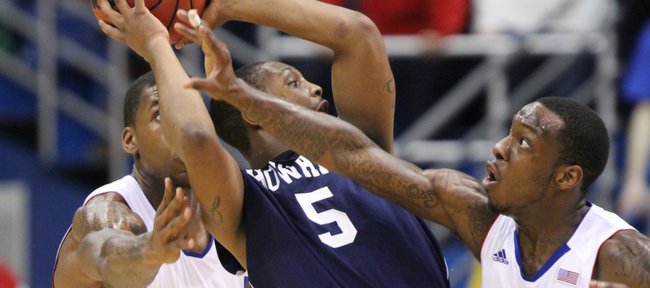 Podcast episode
Kansas coach Bill Self talks to reporters following the Jayhawks' 89-34 victory over Howard on Dec. 29, 2011.
KU vs. Howard
Howard coach Kevin Nickelberry was honest when asked what he learned following his team's 89-34 loss to Kansas on Thursday night.
"Don't go to any Indianas or Kansases. That's what I learned," Nickelberry said with a laugh. "Atmospheres — we haven't dealt well with atmospheres."
Howard (4-9) has only lost two games by more than 21 points this season.
Those two, though, have been ugly. Howard lost at Indiana, 107-50, on Dec. 19 before dropping Thursday's 55-point decision to KU at Allen Fieldhouse.
"Bottom line," Nickelberry said, "we got our butts kicked."
The biggest surprise for Howard was KU's defensive pressure.
"We watched the wrong tape," Nickelberry said. "I'm probably going to fire my staff for making us watch the Davidson tape, because it didn't help us at all."
The Bison posted 24 turnovers, their second-highest total this season.
"(KU coach) Bill (Self) did a great job of changing up their defensive schemes. They got after us," Nickelberry said. "I watched the tape of the Davidson game, and they kind of played vanilla, but tonight, they denied all our passes to the wing.
"He must have gave a great pregame speech, because we couldn't run anything."
The 24 turnovers also were the most forced by KU since a 99-52 victory over UMKC on Jan. 5, 2011. In that game, the 'Roos had 26 giveaways.
"They looked more like KU in the past to me," Nickelberry said. "(Self) took the foot off the pedal this year because he has a lot of new players, but I'm thinking he's going back to doing what he knows. He's not going to let David come in against Goliath and even be a factor, because four minutes into the game, we got knocked out."
Howard entered Thursday's game with one of the youngest rosters in the nation. The Bison played five freshmen against the Jayhawks, with four getting at least 15 minutes.
"I don't care what they did in high school," Nickelberry said. "They weren't ready for this atmosphere."
So what was Nickelberry's message to his players afterwards?
"You don't want to know," he said with a smile. "It wasn't anything you could print."
Howard will end its nonconference schedule with a game Saturday at Kansas State.
Earlier this season, the Bison only lost by 14 at Georgetown and by 21 at Oregon State.
"(Self) really found a way to get those guys going, because we are not as bad as we looked today," Nickelberry said. "We've played well, but (in) the two atmospheres — at Indiana and this one — we just haven't been good. As a matter of fact, we were awful."
More like this story on KUsports.com