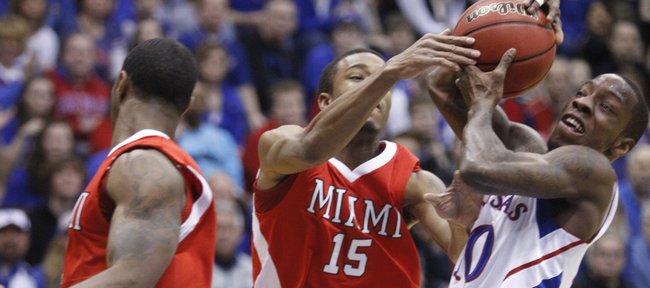 Few college basketball teams have the luxury — if that's what you want to call it — of facing the three highest-ranked teams in the nation by the first week of January.
Miami (Ohio), which Kansas University defeated, 83-56, on Sunday at Allen Fieldhouse, is one such team.
Miami coach Charlie Coles was more than happy to compare the Jayhawks to No. 1 Duke and No. 2 Ohio State.
"I don't know if Kansas is the best," Coles said. "But I don't know if anybody's better."
Coles was animated during his postgame briefing, but more in the sense of an uncle telling stories around a campfire and less like a coach disappointed with his team's play.
"Forgive me coach K, forgive me coach K," said Coles, his voice elevating in volume with each word as he begged forgiveness from Duke coach Mike Krzyzewski. "With (Duke freshman) Kyrie Irving out of there, it'd be hard for me to pick a No. 1. When he was playing with them, I thought, 'This is a clear No. 1.' It's all even now."
A couple of Coles' players also chimed in, and they were more willing to give Kansas the edge.
"I didn't play at Duke," said senior Antonio Ballard, who finished with five points and four rebounds. "I was out for that game. But I did play against Ohio State. I think KU is better than them. Just from watching Duke, in my opinion, I feel that KU is on top right now."
Added sophomore Orlando Williams (11 points): "Individually, KU has (Duke) beat. But coaching-wise, Mike Krzyzewski's got years under his belt and is a good leader. I'm not saying that KU's coach is a bad coach, because he is a really good coach."
That showed Sunday during the final 10 minutes of the first half. With KU and Miami feeling each other out for the first several minutes, KU blew the game open midway through the half by turning a 19-11 lead into a 33-11 cushion in a little more than two minutes.
The big blow during that stretch was an uncontested, two-on-none alley-oop off the backboard from KU's Travis Releford to Elijah Johnson.
"I was very disappointed with our effort in the first half," Coles said. "I don't think Kansas really got going until there was about nine minutes to go in the first half. After that, it seemed like we backed off of them. I thought we would play better. I really did."
After the showtime slam dunk, Coles immediately called timeout and pleaded with his team to bring better focus.
The RedHawks did, eventually, as KU won the second half by just a point.
But it was too little, too late.
"In the second half, I think we did play better," Coles said. "But, if you're not the lead dog, the scenery never changes because you're looking at people's behinds. And we did a lot of looking at Kansas' behinds."