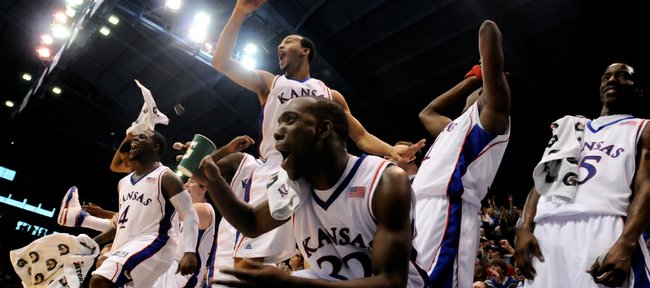 Kansas University's students made it clear they want Lance Stephenson to play basketball for the Jayhawks next season.
Students made several banners recognizing the presence of the 6-foot-5 Brooklyn, N.Y., Lincoln High guard, who sat behind KU's bench as part of his official recruiting visit.
"We Like Lance-A-Lot," one banner read.
"Born Ready to Rock Chalk," read two others.
One student held up an oversized picture of Stephenson's face and had Stephenson sign the back of the picture.
What's more, the fans chanted "Rock Chalk Stephenson" in the final seconds of the game and cheered wildly as he exited with coach Bill Self and KU's players out of the northwest tunnel following the final horn.
The Jayhawks were intent on making sure the McDonald's All-American, who is considering KU, St. John's, Maryland, USC and UCLA, had a great time this weekend.
"We'll go watch the (OU-Texas) game, but we've got a recruit in town. We've got to show him a good time," Sherron Collins said. "We'll take him out to eat and probably do something with him, let him know we're trying to get him here, too."
Collins said he had "an ESPN site on my iPhone," to "check in" on the progress of the OU-Texas game.
Tooth talk
Cole Aldrich, who had his front left tooth knocked out in a game against Kansas State on Jan. 13, lost his temporary tooth on Friday.
"It came out yesterday," Aldrich said, sporting pearly whites Saturday.
Did it happen eating an apple as Self theorized? "No," Aldrich said with a smile.
Boo, boo
KU fans booed NU point guard Cookie Miller every time he touched the basketball.
Miller and KU's Mario Little fought for a loose ball in KU's game Jan. 28 at Nebraska.
Miller tugged and tugged and finally ripped the ball away. ESPN announcer Doug Gottlieb at the time said Miller "acted like a punk" following the tie-up in Lincoln.
"It's funny. Every time he touched the ball, they booed him just because of what he did to Mario," KU's Collins said. "I will support our fans, so I guess it was great."
Another tie-up
This time, Little and Paul Velander had a similar wrestling match for the basketball in the second half. After Little ripped the ball away, Velander approached and gave him a hug. Little broke into a big smile, and the fans chanted, "Awww."
Stats, facts
Nebraska football coach Bo Pelini attended and sat behind the Cornhuskers' bench. ... KU's 11-1 start in league play is best since an 11-1 mark in the 2002-03 season. ... KU has won 13 straight over NU and has won five straight season series against the Huskers. ... KU upped its Allen Fieldhouse win streak to 39 games. ... Aldrich recorded his 100th career blocked shot and recorded his 15th double double of the season. ... Collins has 1,154 points and ranks 36th in school history. ... Matt Kleinmann's late dunk was his first dunk of the season. He scored his first points since Dec. 30 against Albany. ... KU is the fourth team to score 70 points on NU. ... KU had 23 second-chance points to NU's two. ... NU's four offensive rebounds were fewest by a foe all season. It's the fewest by an opponent since Baylor had four on Feb. 18, 2004.
More like this story on KUsports.com