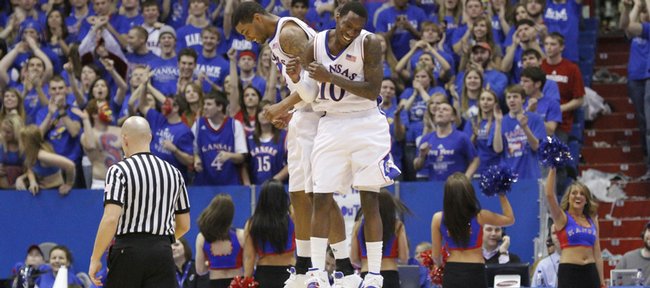 KU vs. Nebraska
Reader poll
Cole Aldrich

19%

338 votes

Sherron Collins

13%

243 votes

Marcus Morris

58%

1038 votes

Markieff Morris

6%

122 votes

Other

1%

31 votes
1772 total votes.
Reader poll
Thomas Robinson

28%

6 votes

Jeff Withey

66%

14 votes

Undecided

4%

1 vote
21 total votes.
Self's X factor
Kansas University's basketball team had a so-so week, claiming an overtime victory at Colorado on Wednesday and 75-64 decision over Nebraska on Saturday in Allen Fieldhouse.
It's nothing to be concerned about, junior center Cole Aldrich said after his eight-point, six-rebound effort against NU.
"Every year that I've been here, coach (Bill) Self writes numbers on the board and says, 'We're going to play great X amount of games. We're going to play OK X amount of games. And then we're going to play terrible X amount of games.' Those games you play all right to bad, you've got to find a way to win," Aldrich said. "That's kind of what we're doing right now. We've just got to defend and make sure they don't get easy buckets any more."
He said Self does that "usually toward the beginning (of season). You've got to find ways to win," Aldrich stressed. "I think we haven't played spectacular defense by any means, so that's one thing we've got to get back to doing is moving our feet and playing good defense because that's going to win us a lot of games."
Technically speaking
Self picked up a technical foul the first half. It was a game both Self and NU's Doc Sadler appeared enraged over the officiating. Sadler stopped to speak with KU athletic director Lew Perkins after the game, apparently discussing the work of the officials.
Frederick award
NCAA officials recognized former KU athletic director Bob Frederick as the inaugural winner of the NCAA's administrator's sportsmanship award at halftime. The NCAA's John Blanchard and Robert Vowels made the presentation to Frederick's widow, Margey. The award goes to an NCAA administrator who "shows the highest respect for intercollegiate athletics, demonstrates respect for competition, student-athletes, coaches and officials, and encourages student-athletes to demonstrate positive sportsmanship and integrity."
The NCAA officials announced Saturday that the award would be named after Frederick.
Motivation
KU coach Self ripped into the Jayhawks during a timeout early in the second half with NU up, 43-39. The Jayhawks immediately responded on a 28-5 roll.
"He knows how to get you going," guard Sherron Collins said. "He challenged us, and we responded. It wasn't no milk and cookies. Him jumping on us was something we needed. He's a good motivator and that's what he did. He motivated us."
Looking ahead
Much of the postgame was spent talking about Monday's 8 p.m. game at Texas. KU enters 22-1 overall and 8-0 in the league. Texas is 19-4, 5-3 after Saturday's loss at Oklahoma.
"I don't think it's a statement game, but it's a big game. In the Big 12, every game is a statement game," Collins said. "We want to win to keep moving forward."
Stats, facts
KU extended the country's No. 1 homecourt win streak to 55 games, which ties as the second longest in KU history. ... KU has won 15 straight versus NU. ... KU leads the all-time series 168-71, including a 50-7 mark in Allen. ... After KU led 37-33 at halftime, Nebraska took a 43-39 lead, marking the first time KU has blown a halftime lead this season. ... Brady Morningstar dished four assists, marking the 10th game he has had three assists or more. .... With his four three-pointers, Collins moved into fourth place on KU's all-time three-point field goal list. He has 208. ... Collins had six assists and moved into ninth place with 489 on Kansas' career assists list past Ryan Robertson (1996-99).
More like this story on KUsports.com