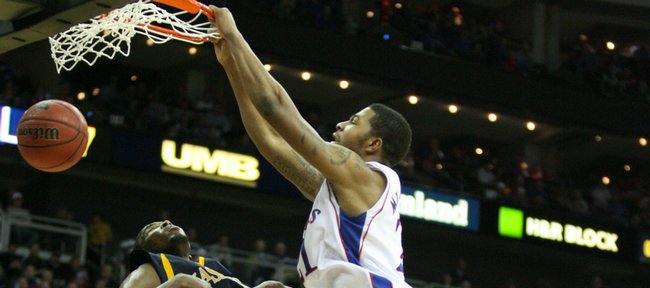 Buddies
Kansas University's Marcus and Markieff Morris visited with La Salle guard Rodney Green before and after the Jayhawks' 90-65 victory over the Explorers on Saturday.
"I told him, 'Good game, man,'" Marcus Morris said after watching his Philadelphia Prep Charter High teammate score 19 points off 8-of-21 shooting with four assists and three turnovers in 40 minutes.
"I told him (before game) we were going to beat them anyway. He can play on any level. We knew that coming out of high school."
Markieff noted: "I talked to him a lot before the game. I told him, 'It's going to start out close, but eventually we're going to pull away from you because all we had to do was get it together.' Once we get it together, there's no stopping us."
No juice for E.J
KU freshman guard Elijah Johnson made his second straight start. He had one point and two assists in six minutes.
"I didn't think Elijah had any juice today from an energy standpoint. He said his ankle was bothering him," coach Bill Self said of an ankle Johnson sprained several weeks ago. "That (energy) is what he has to give us. He didn't have it today because of health reasons."
Self indicated it was a minor injury and Johnson would be fine heading into finals week.
Rebounding
KU, which was outrebounded, 22-17, the first half, won the board battle, 44-34.
"They killed us on 50-50 balls and rebounding the first half," Self said. "To be plus-10 after being dominated early is good. That's one of the better rebounding teams we'll play all year."
Stats, facts
KU is 9-0 for the third time in the Self era, 6-2 in Sprint Center, 191-76 all-time in Kansas City, 3-0 versus La Salle and 46-14 all-time against teams from the Atlantic 10. ... The 18,830 fans made up the largest regular-season crowd at Sprint Center. ... Xavier Henry had 31 points. The last KU player to score 30-plus was Sherron Collins, who had 32 against North Dakota State in last year's NCAA Tourney. ... Markieff Morris (12 points, 12 boards) had his first career double-double. He had a career-best four blocks. ... Cole Aldrich's five blocks pushed his career total to 160 and moved him into sixth place all-time at KU, behind Danny Manning (200) ... La Salle hit 36.1 percent of its shots, marking the 83rd-straight opponent the Jayhawks have held under 50 percent. ... KU has held eight of its nine opponents under 40 percent. ... KU's 11 blocked shots were a season high.
Zone
KU used a 2-3 zone part of Saturday's game. "Statistically, it was good. They scored two possessions out of six," Self said. "We're not going to do any (highlight) videos on it in the near future."