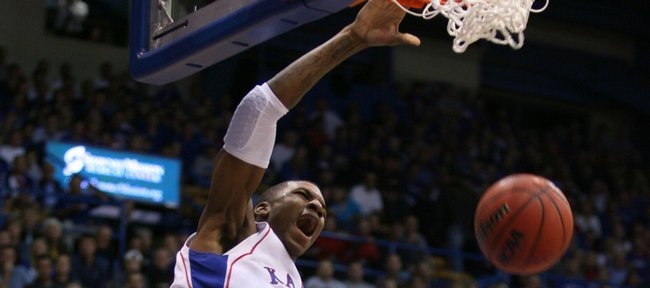 9:40 p.m.
Quick update on redshirts: Though it's not officially official, a few of the KU players after the game hinted that both Little and Releford were planning on taking redshirts this season.
Self said it wasn't 100-percent determined yet, but said, "That's probably the percentage play with both of them right now."
KU scoring
Robinson 17, Marcus Morris 14, Collins 13, Taylor 12, Markieff Morris 12, Xavier Henry 10, Aldrich 10, Teahan 7, Johnson 3, Reed 3, Juenemann 1, Buford 1.
KU was 37-for-67 from the floor (55 percent), 21-for-29 from the free-throw line (72 percent) and 8-for-21 from three (38 percent).
PSU was 18-for-50 from the floor (36 percent), 4-for-8 from the free-throw line (50 percent) and 5-for-11 from three (46 percent).
KU out-rebounded PSU, 42-26. KU had 21 steals and eight blocks. PSU had 33 turnovers.
FINAL: KU defeats PSU, 103-45
Masters puts in a three for PSU, and I actually hear two different KU fans yell, "Come on, guys" from the stands. Talk about a tough crowd.
Teahan hits a three from the deep corner, and that puts KU over 100.
Buford gets fouled on an offensive rebound with 8 seconds left, and he makes one of two free throws. Each Jayhawk that played tonight scored.
KU wraps up a 103-45 victory. And the funny thing is, it probably wasn't even that close.
KU 99/PSU 35 — 3:29 left in game
Walk-on Jordan Juenemann checks in for KU at the 7:40 mark. This has to be the earliest action of his KU career.
Chase Buford comes in with 6:15 left, and this will be his first action after sitting out the first exhibition game.
Teahan goes up for a jam but is fouled on the way up. That would have brought the house down had he been able to complete the jam.
Robinson throws in another athletic one-handed jam, and he's T'ed up after hanging onto the rim a second too long. Robinson starts to head to the bench, but Self motions for him to stay on the floor, as it didn't look like there was any intent by Robinson to showboat.
Buford fights for an offensive rebound, and he throws across the lane to Robinson for another one-handed slam.
Juenemann is fouled going for a defensive rebound, and he gets the second of two free throws to fall in.
KU 90/PSU 30 — 7:40 left in game
PSU's C.J. Masters gets a jumper to go down, breaking a six-minute scoreless streak for the Gorillas.
Teahan hits an open three from the left wing, and that's good to see after his early-season shooting struggles last year.
Collins follows with a three from an identical spot on the floor on the next possession, though his was a bit more guarded.
In transition, Collins finds nearly the same spot on the left wing, swishing in KU's third straight trey.
KU 80/PSU 24 — 11:20 left in game
Add two free throws from Markieff Morris. Nice touch pass inside by Aldrich, who managed to avoid a pair of PSU defenders.
Aldrich takes on a double-team on the next possession, shooting in a turnaround from eight feet. That's a 16-0 run for KU.
KU 76/PSU 24 — 12:55 left in game
Robinson and Markieff Morris seem to have a nice chemistry in there. Robinson spins on a post move, but instead of trying a guarded jump, he slipped the ball quickly underneatht the basket to Markieff for a layup.
The next possession, Robinson took a quick move across the lane to the rim and missed the shot, but Markieff was there on the weak side to clean up the mess and put it in for two.
Off a steal, Marcus Morris collects a pass underneath and dunks it, and PSU calls timeout. This one isn't getting any prettier for the Gorillas.
KU 70/PSU 24 — 15:30 left in game
Taylor zips a pass under the basket to Marcus Morris, who had snuck behind the last defender. Easy two for KU.
The Jayhawks are just choosing which shot they want now. Robinson doesn't control the ball completely, so he decides against trying to slam an alley oop home. A quick pass nets Collins an open three, though, and Self claps his hands in approval after the shot goes through.
Taylor scoops up another steal, and on the other end, Taylor knocks in a three off an assist from Collins.
The fast-paced tempo forces some sloppiness from both teams. No problem for Self, who shuffles in four new guys.
Robinson overpowers a PSU defender for an offensive rebound, then he gets the putback to fall in with a foul. He pumps his fist a few times after it falls through, and the freshman should be one of the main stories after this one ends.
KU 55/PSU 21 — Halftime
Kansas scoring — Robinson 10, Marcus Morris 8, Aldrich 8, X. Henry 7, Taylor 6, Markieff Morris 6, Collins 4, Reed 3, Johnson 3.
KU was 21-for-35 from the floor (60 percent), 11-for-12 from the free-throw line (91.7 percent) and 2-for-9 from three (22.2 percent).
PSU was 9-for-23 from the floor (39.1 percent), 0-for-1 from the free-throw line (0 percent) and 3-for-6 from the three-point line (50 percent).
KU has out-rebounded PSU, 19-11. PSU had 18 turnovers to KU's seven.
KU had 10 first-half steals and six first-half blocks. The Jayhawks had 24 first-half bench points, as compared to 21 total first-half points for PSU.
KU 55/PSU 21 — Halftime
Robinson leaves him man open underneath, but he recovers in time for a one-handed rejection from the backside.
Nice awareness inside by Marcus Morris. After getting it in the post, the forward noticed his man wasn't guarding him on the baseline. Marcus spun that way with a couple quick dribbles then put a short shot in for two with a foul.
Wow. Go straight to SportsCenter's top play to find KU's last highlight. After a steal, Taylor tossed a no-look pass over his head to Marcus Morris, who went straight over a PSU defender for a one-handed tomahawk slam with a foul. Marcus roared his satisfaction into the camera, and Collins waved his hands in the air to bring the entire Fieldhouse crowd to its feet. Everyone is jumping on the bench after that one.
This place is juiced now, and Robinson follows with a steal and a breakaway jam to heighten the frenzy. Two free throws from Robinson, and that's a 12-0 run for KU.
The potential is just oozing off this team right now. Following a defensive rebound, Xavier took the ball left across the court and forced up a tough baseline shot, getting it to roll in with a foul. Most freshmen wouldn't have the strength to even get a shot to the rim with that kind of contact, and Xavier not only got it there, he made it.
Johnson finishes off the half appropriately, breaking down a PSU defender before dishing to Aldrich for a slam.
It's going to be hard for KU fans to not get very, very excited about this team after a first-half display like that.
KU 39/PSU 19 — 3:46 left in 1st half
Sometimes it's easy to forget that this team still has Sherron Collins. The senior guard makes an athletic move on the baseline to get two points, going around and then under a defender for a leaning layup. Collins then out-hustles a PSU player for a steal, taking it all the way for a layup on the other end.
Reed lobs a nice pass to Aldrich, who drops it in for two. There's not much PSU can do to defend that play.
KU 31/PSU 14 — 7:57 left in 1st half
Taylor shows some growth as a player on a drive, as after dribbling by two defenders, he pulled up for a short jumper off the glass. A year ago, he probably would have tried to take it all the way to the rim and would have picked up a charge.
Robinson is pulling out all the post moves tonight. Pretty little up-and-under move for him, as he was able to get the PSU defender in the air before leaning to the basket and banking a shot in off the glass. That kind of shot was Nick Collison-esque.
Elijah Johnson steals the inbounds pass and is fouled by PSU. That makes five steals already for KU.
Wow, this team can be fast when it wants to be. Following an airball miss by PSU, the Jayhawks raced up the floor, and Taylor delivered a one-handed pass in traffic to Robinson for a thunder slam.
Following another steal by Taylor, Johnson makes a jumper with a foul.
PSU's Jordan Embers turns it over again, but this time KU doesn't capitalize, as Xavier gets a bit too fancy, throwing a no-look pass high and out of bounds. Self simply puts his head in his palm while shaking his head slowly.
Conner Teahan checks in for his first action of the year.
KU 18/PSU 11 — 11:57 left in 1st half
Aldrich draws a crowd inside, and Collins calls for the ball on the wing. Aldrich chooses Tyrel Reed instead, who also is wide open in the corner. Reed swishes the three-point attempt. Xavier also was open at the top of the key, and that just illustrates the benefits of getting the ball to the big man inside.
Great fundamentals by Thomas Robinson inside, as after getting a post feed, he faked to his right then spun to his left, putting in an easy layup off the glass.
KU 13/PSU 9 — 15:21 left in 1st half
It didn't take long for KU to get Aldich his first touch, as Collins lobs it inside and the big man is hammered on a shot attempt. Aldrich swishes both free-throw tries.
Steals on the first two possessions for KU, and Collins turns his steal into points. He fires a baseball pass upcourt to Xavier Henry, who tossed a no-look feed to Taylor for a layup.
KU works from the inside-out, and a post feed opens up Xavier for an open three that he rattles in.
PSU has hit some tough shots in the earlygoing, making three of its first five shots. PSU's Rodney Grace outhustles Markieff Morris to an offensive rebound and puts in the stickback to tie the score at 9.
Markieff gets him back on the other end, ripping away a rebound and putting it back in for two. Xavier follows with a steal and breakaway, one-handed tomahawk slam, much to the delight of the KU faithful.
7:02 p.m.
Nice ceremony before the game to recognize PSU coach Gene Iba, who will be retiring after this season following 30 years of coaching. Self presented him with a piece of the old Allen Fieldhouse floor.
6:50 p.m.
Starting lineup for KU: Sherron Collins, Cole Aldrich, Tyshawn Taylor, Xavier Henry, Markieff Morris.
6:42 p.m.
Just spotted former Jayhawk center Greg Ostertag, who is here to watch the game.
Steve Welmer also is here, but for another reason: to officiate. It's good to see the big guy back after suffering a season-ending foot injury during the KU-Michigan State game last season.
6:35 p.m.
Redshirt update: Conner Teahan will play tonight and will not red-shirt this year, while Mario Little and Travis Releford will sit out and are still undecided on redshirts.
6:25 p.m.
Here are three things to look for from the Jayhawks tonight:
1. Better passing
KU coach Bill Self admitted the ball was sticking in players' hands a bit too much in KU's first exhibition game against Fort Hays State.
This also meant that preseason All-American Cole Aldrich wasn't receiving some of the touches he should have been getting inside.
Look for KU to try to find the big man early and often tonight, especially because he was largely ignored a week ago.
2. Improved defense
Self-led teams typically improve defensively as the season goes along, but it still wouldn't hurt to see more ball pressure and steals tonight against Pitt. State.
KU had 13 steals against Fort Hays State, which is a good number, but obviously Self would still like to always see his teams improve defensively.
Guarding the three could be another area of improvement for KU, as FHSU made 10 of its 26 three-point attempts (39 percent) last Tuesday.
3. Avoiding the whistle
It typically takes some time for freshmen to get adjusted to how Division-I games are called.
Having said that, Thomas Robinson needs to log more than 13 minutes tonight before fouling out.
Xavier Henry also was foul-prone, getting his fifth personal in his 20th minute against Fort Hays State.
We'll see if the freshmen learn from their previous mistakes.
6:07 p.m.
Tyrel Reed, who tweaked an ankle injury over the weekend, is warming up with the team full speed in front of me. It looks like he'll play tonight.
5:38 p.m.
Welcome back to the Newell Post Live, coming to you from Allen Fieldhouse where the Kansas Jayhawks are getting ready to take on the Pittsburg State Gorillas.
Comparative scoring shouldn't mean anything, especially in the preseason, but I'm sure more than a few folks will be interested in the final score of this game.
Why's that? Well, Kansas State defeated Pittsburg State, 89-53, on Sunday in Manhattan.
The sky shouldn't fall for KU fans if the Jayhawks don't hit the magical victory margin of 36, but I'm sure it still will be used by same to argue that either a) KU is much better than K-State; or b) K-State is just as good as KU.
At this point in the exhibition season, that kind of talk is just a sign that there isn't a whole lot to discuss until the season actually begins.
I went ahead and posted a video above that you need to make sure to check out if you haven't yet. The video shows KU's basketball players during their photo shoot with ESPN the Magazine.
We'll have more notes later as we get closer to gametime.