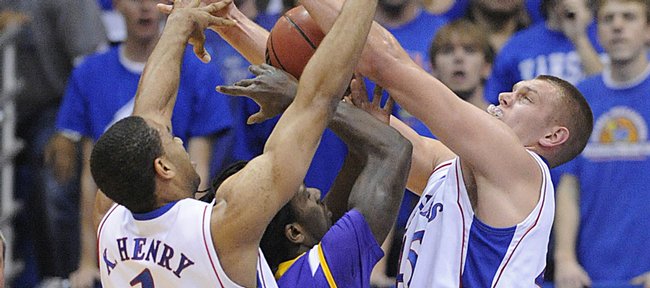 "Saturday Night Live" actor Jason Sudeikis, a huge Kansas University basketball fan who graduated from Shawnee Mission West, attended the game and sat lower-level, east side. He was introduced to the crowd via the videoboard during the second half.
Sudeikis remained long after the game, signing autographs and posing for pictures for fans. He made his way to the locker room, where he visited with KU coach Bill Self for 10 minutes, then signed more autographs before leaving with former KU player Greg Gurley.
Gurley and Sudeikis play pick-up basketball at the Athletic Club of Overland Park.
The cast members of "SNL" are well aware of Sudeikis' love for KU hoops.
"It's pretty well known at this point," Sudeikis said. "I wear my game shorts, the ones I bought online, before every show."
He tries to sneak KU gear into skits whenever possible, plugging KU on national TV.
"The wardrobe department actually buys and finds things for me," Sudeikis said. "Like the vintage one I have in the Zac Efron sketch where I'm giving him a foot rub. That one they actually bought for me. They found it in some fancy store in New York and said, 'Hey, I think we found something you are gonna like.' They showed it to me. I said, 'Oh yeah!'''
Sudeikis proudly said he, "went to Rockhurst two years like (Conner) Teahan, except he graduated from there. Then I graduated from Shawnee Mission West."
Sudeikis did not attend KU.
He said he was flattered by all the fans who mobbed him for autographs Friday.
"Very nice," he said. "I had no idea. You sometimes forget when you are working on the show people sometimes watch it."
Sudeikis sat with KU graduate Rob Riggle, formerly of Saturday Night Live and The Daily Show. Riggle was also introduced to the crowd.
Hot 'n' Cole: Cole Aldrich snapped a slump by scoring 14 points off 5-of-8 shooting. He added 10 rebounds.
"It was nice. It was a relief," Aldrich said. "I'm happy to get through a little funk. It's a little weight off my back knowing I can finally play the way I used to play."
Aldrich had been ill lately.
"I was sick a few days," he said. "Yesterday I got into the gym 40 minutes before practice. I threw up about 100 hook shots. I got in shootaround early, tried to work on my game and it paid off."
Self sends message: Aldrich scored eight points in the final five minutes of the first half, returning after he and four others were removed from the game following an 8-0 Tennessee Tech run. Conner Teahan (eight points) was one of the subs who played well as a first-half sub.
"It was a message to all of 'em," Self said. "We were up 18, and they go on a run because we start jacking around. Conner was instant offense for us."
Stats, facts: KU's 112 points were most scored in a game in the Self era. It's the most points since scoring 113 versus Emporia State on Dec. 14, 2002. Previous high in the Self era was 109 versus Texas Tech on March 3, 2008. ... Jordan Juenemann scored six points. He had yet to score in a regular-season game in his career.
More like this story on KUsports.com