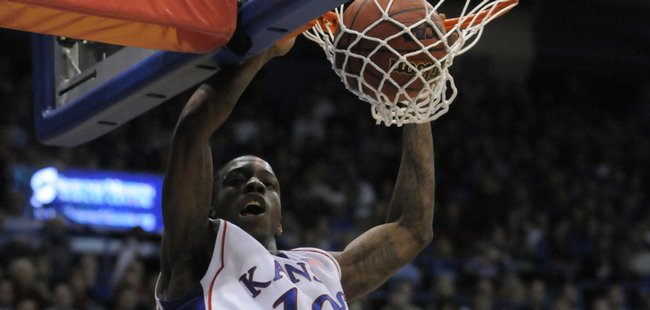 A wide-open Tyshawn Taylor accepted a crisp pass from Markieff Morris, elevated high, then hoisted a three-pointer from the left side.
Swish.
"Once it went in, I said to myself, 'It's about time.' It's what I'd been waiting for — for so long," Taylor, Kansas University's 6-foot-3 sophomore combo guard, said of his first shot attempt in the Jayhawks' 112-75 rout of Tennessee Tech on Friday night in Allen Fieldhouse.
The shot — which gave KU an 8-6 lead just 41⁄2 minutes into the game — energized Taylor, who busted a seasonlong shooting slump by scoring 18 points off 7-of-9 marksmanship, including three of four from three-point land.
"I knew my time was gonna come. I just didn't know when," said Taylor, who had fared so poorly through KU's first four games he refused to glance at the stat sheet. "I think if I looked at my stats, I'd be too focused on trying to score and make things happen."
For the record, he had hit just six of 23 shots, good for 26.1 percent — one of five threes for 20 percent — through KU's first four games.
"Everybody's had a good game individually," said Taylor, aware the Jayhawks have had six leading scorers (Taylor, Xavier Henry, Cole Aldrich, Sherron Collins, Marcus Morris, Tyrel Reed) in the first five games. "That's why I knew my time would come, too.
"I was telling myself before the game, if a three would fall for me early or a dunk, I'd be good. I'd be relaxed, get the crowd into it. I got a couple of those tonight. I was happy," he added of a breakaway flush off a feed from Reed as well as one off his own steal.
He also skied high to jam one-handed off a feed from Collins in the second half.
"I didn't get it how I wanted, but that was a great pass from Sherron," Taylor said of his dunk with 81⁄2 minutes to play. "I'm surprised I caught it. I didn't think I would at first."
Another dunk try involving Taylor had KU's bench laughing ... for the wrong reason. He lobbed the ball way over the head of Xavier Henry, the ball flying out of bounds early in the second half with KU up, 62-33.
"I thought X had more hops," Taylor cracked. "No, it was a terrible pass, but the defender played it well. He read it a little bit. He jumped as I was throwing it to X, so I kind of bobbled it a little bit. X shoulda caught it still."
The pass was so awry that Taylor took a peek at the bench to gauge the early reaction.
"He tried to throw a lob pass off the ceiling," said KU coach Bill Self, who did not bawl out Taylor for the rare error.
"I looked out of the corner of my eye, and they were laughing. Coach (Joe) Dooley and Self were looking at each other, like, 'You got it,''' Taylor said of the two deciding which would yell at Taylor for the mistake. "Coach Dooley said, 'What the hell was that?' I started laughing ... (but) not that much."
Taylor — his airball from three was put back by Cole Aldrich (14 points, 10 boards) to beat the first-half buzzer — also banked in a three-pointer to give KU a 94-57 lead.
"I didn't call it," said Taylor, who has banked in a few threes before.
Asked if he leads the team in bank shots from afair, he conceded, "I might."
"X hit one last game, so he's coming along. But I think so. Every time I score a lot of points, I hit a bank shot (from three) in the game, so hopefully I can hit more so I can keep scoring points."
All kidding aside, Self was happy to see Taylor have a good game offensively.
"The lid finally came off for him," Self said.
For good reason.
"I'd been putting up a lot of extra shots, coming to the gym a half hour before practice," Taylor said, "trying to get my feel for it. It was time. I knew it was going to come. Now I just have to keep working."
KU (5-0) will meet Alcorn State at 7 p.m. Wednesday in Allen Fieldhouse.
More like this story on KUsports.com