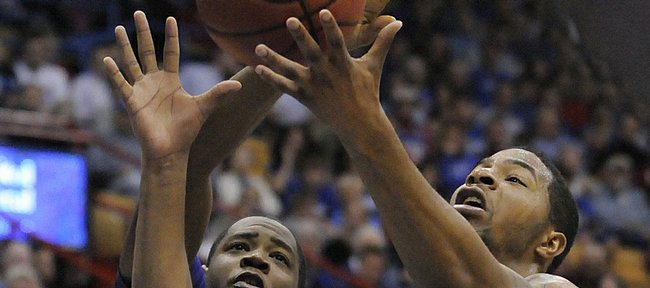 It's not quite Robin Ventura getting a hit in 58 consecutive games for Oklahoma State, or Joe DiMaggio doing it in 56 in a row for the Yankees, but Kansas University reserve post player Markieff Morris has a nice little streak going.
A 6-foot-9 sophomore from Philadelphia, Morris has made 14 consecutive field-goal attempts after missing his first shot of the season. He has made all three of his three-point shots.
And all Morris wanted to talk about after playing 18 minutes and contributing 11 points, six rebounds and three assists in Friday night's 112-75 rout of Tennessee Tech in front of the customary 16,300 fans packed inside Allen Fieldhouse was setting screens. He might have been done growing vertically by the time he came to Kansas, but he's done a lot of growing in other ways.
"Coach emphasizes screening in practice," Morris said. "We practice screening a whole lot, and I think that opens our guys up for a whole lot of open shots."
He grew excited talking about the keys to setting good screens.
"Sprint to your screen," he said. "Stay low. Absorb the contact. Coach emphasizes every day you can't be soft setting the screens, or we won't get any open shots. Coming into college, I wasn't a screener. Coming in here, coach emphasizes getting our teammates open shots, and I try to take pride in getting teammates open shots."
Markieff Morris said he wasn't aware he had missed just one shot.
"I don't really pay attention too much to that," he said. "I just try to do what coach needs me to do so I can stay in the game."
Therein lies the beauty of depth on a basketball roster. Nothing motivates quite like a seat on the bench. Keep the stickler for details happy by doing all the little things, and your chances of not having to sit near him improve.
The Jayhawks are keenly aware that one good way to earn a seat on the bench is to monopolize the basketball, instead of keeping it moving. For the second time in three nights, Kansas had a terrific night passing the ball.
"Everybody had open shots because we kept the ball moving," Markieff said.
He is playing 14.4 minutes per game, time enough to average 7.4 points and 5.4 rebounds, roughly 15 points and 11 rebounds a game if he played 30 minutes a night. With twin brother, Marcus, and preseason All-American center Cole Aldrich playing in front of him, those type of minutes aren't available, so he makes the most of those he gets and tries to improve at the little things to earn more playing time.
"It's tough," Aldrich said of going against him in practice daily. "It's tough. I couldn't say it wasn't tough at times last year. Markieff, I would say if I could pick a person coming back, he was probably the most improved over the summer, him and his brother. They kind of got over the attitude of limiting themselves working hard. Now they really work hard all the time. With those two working hard, it just makes the whole team better."
Markieff won't shoot .933 from the field all year. As the competition stiffens, his production stands to decrease. Of more importance, look for his effort level to keep right on rising.
More like this story on KUsports.com