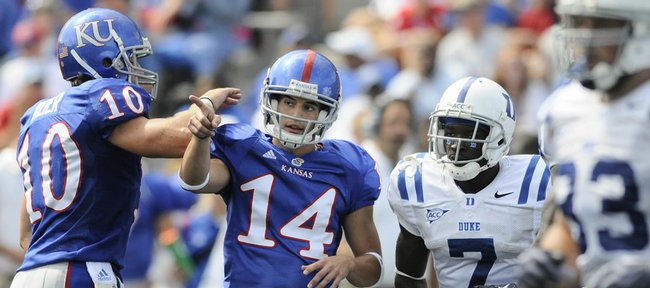 The placekicker was talking about tackling.
This was Tuesday, an overcast afternoon, inside the Kansas University football complex. It was a rather odd scene, truth be told, this waif of a young man — at 5-foot-10 and 180 pounds, Jacob Branstetter is built like a very sturdy computer programmer — discussing big hits and wrapping up and the joy he derives from carrying out such acts.
At the same time, it is a subject in which the fourth-year junior, thanks to his violent and perpetual habit of darting downfield after kickoffs to hurl himself at opposing return men ("He's like a little heat-seeking missile," marvels one teammate), has become greatly adept.
In 2008, for instance, his first season as the team's starting kicker, Branstetter finished with seven tackles, one more than defensive end John Larson — a part-time starter — and two more than one of this year's surprises at the position, Jeff Wheeler. The list of players who've been on the wrong end of a Branstetter hit, meanwhile, is impressive. Jeremy Maclin, the former Missouri All-American and current Philadelphia Eagles receiver, has felt his pain. Same for flashy and talkative former Kansas State return man Deon Murphy.
Not surprisingly, this penchant for physicality has turned Branstetter into a bit of a novelty around Lawrence. Fans love him. A kicker who plays like a linebacker? That ranks right up there with the quarterback who runs around pumping his fist and thrusting his hips. His coach — when he's not imploring the player to play with some semblance of restraint — seems pretty tickled, too.
"What was it, 'Underdog' — 'Here I am to save the day?" Mark Mangino joked the other day of his kicker's considerable bravado.
About the only person who doesn't seem to find anything exceptional about the whole thing, in fact, is Branstetter. Ask him about his physical nature, he shrugs. Ask him about the fire with which he plays, another shrug. That's how he always has played, he'll say. Fast and furious, emotional, heart right out there on his sleeve.
"Some people say, 'Don't show your emotions, don't cry, don't yell, don't scream, don't get excited," he says. "That's not me."
And it is about this time that it occurs to you that maybe — like a poodle that grows to believe it's a rottweiler because it never has had any reason to believe otherwise — nobody has ever bothered to tell Jacob Branstetter that his job is merely to kick footballs.
• • •
Surprised?
No, sir. Not Gerald Branstetter. As his son racked up tackle after tackle during Kansas' run to an 8-5 record and Insight Bowl victory a year ago, Gerald didn't notice anything out of the ordinary. This was the same way the kid always played, as far as he was concerned.
Gerald hadn't played organized sports growing up — he was always a bit undersized — but he'd cut his teeth during neighborhood sandlot games, playing tackle football with no pads, suffering a broken jaw on one occasion, coming to cherish toughness and grit and the propensity to play with a certain amount of fire in the belly.
And early on, he'd made sure those blue-collar virtues had been fused into his youngest son, who never did hesitate to throw his tiny frame — perpetually speckled with bumps, bruises, scabs, scars — around the fields and courts and neighborhoods of Lawton, Okla.
Here's young Jacob walking his bike home from the park, the front wheel bent and twisted so badly he can't ride it — which is what happens when you and your buddies, inspired by the recent viewing of a Disney Channel movie, build a dirt ramp and then take turns propelling yourselves off of it.
Here's Jacob tearing around the base path of his Little League field, a gruesome bump bulging from his head. Earlier that day, he'd suffered another bicycle mishap, landing head-first onto the pavement. But he hadn't felt much like missing his baseball game on account of something so minor, and so he hadn't. At one point, he throws up on the field.
Now here's Jacob returning punts for MacArthur (Okla.) High — not because he's particularly quick or shifty ("Catch the ball, get a couple yards and get down was basically my job," Branstetter says now) — but because coaches have realized he's the only player cold-blooded enough to hang onto the football while a troop of corn-fed Oklahoma boys swarms him.
Yeah, physical well-being doesn't seem to rank too high on his list of personal priorities. Jump first, look for Band-Aids later.
Once, during a game late in his freshman football season, he suffered a broken collarbone that, according to the family doctor, would force him to miss the first month and a half of the upcoming basketball season.
"He said (it would be) six weeks," Branstetter says. "And I said, 'Nah, I'll be there in four.'"
Two and a half weeks later, he was shooting baskets.
The unfortunate part about the collarbone injury, though, was that he realized it meant he'd have to switch from his safety position to kicker and punter if he wanted to continue playing football. He elected to kick, and that was a bummer, because nothing takes the air out of a guy's sails like having to watch football's beautiful chaos from the sidelines, limited to a once- or twice-quarterly appearance for a kickoff or punt.
Still, it didn't take long for him to develop a talent in his new venture. In his sophomore year, he replaced the team's injured starter and helped MacArthur advance to the 5A state championship game. He committed himself to his new craft, whetting his appetite for contact on the few occasions when, during fake punt situations, he was allowed to tuck the ball, lower his shoulder and battle for a first down.
But even as he developed into arguably the best kicker in school history — when MacArthur special-teams coach Mike Moore Moore flips open the school's record book a few years later while speaking with a reporter, he has a hard time finding a kicking or punting record Branstetter doesn't hold — he longed to be out there playing safety or receiver.
"If we'd have ever said, 'Hey, we need you to run out there and play strong safety,' his eyes would have gotten big as saucers," Moore says.
Following a prep career in which he connected on 17 of 22 field goals and 142 of 144 PATs, Branstetter signed with Air Force. The next year went like this: After a few weeks at the Academy, he realized it wasn't for him, left school, headed back to Lawton, went to work at a local sporting-good store, got promoted to manager, exchanged e-mails with KU defensive coordinator Clint Bowen between shifts, accepted an offer to walk-on at Kansas in 2007, sat out a year, suffered through an eligibility mix-up that threatened to sideline him for the 2008 season, and then, a week into the season, finally found himself as the starting placekicker for the Kansas University football team.
He's been cracking skulls ever since.
• • •
Kansas senior defensive back Justin Thornton was watching ESPN the other day. Some NFL highlight show. Keyshawn Johnson was hosting, he thinks. Anyway, at one point he saw something that — given the level of tenacity he has come to expect out of his own team's kicker — made him shake his head in disgust.
"One of the return men broke a kick, and one of the punters didn't even come close to making a tackle," says Thornton, the Jayhawks' third-leading tackler this season. "I was like, 'Man, if Branstetter was out there, he would've laid the wood to that guy.'"
This is the way the team's defenders talk about their placekicker. Cold-blooded, they call him. Toughest kicker in the Big 12, for their money. On the sidelines, after Kansas touchdowns, they make a point to gather and watch as the Jayhawks prepare to kick off.
A Branstetter kickoff is kind of a happening.
When prompted, they can roll through Branstetter's Greatest Hits with relative ease — although, due to sheer volume (he's up to nine career tackles after four games this season), the process of selecting a favorite can get tricky.
There was the Missouri game last year, when he twice corralled and once upended the eventual first-round NFL Draft pick Maclin to save a would-be touchdown.
Then there was the Crib Controversy of 2008. In one last season's most memorable moments, Murphy, the Kansas State returner, vowed to "take one to the crib" in the days leading up to his team's meeting with the Jayhawks.
Well, these words got back to Branstetter, who was not particularly amused, and so it was no real surprise that, by the time Kansas had wrapped up a 52-21 victory over the Wildcats, Murphy had a total of zero kick return yards, and Branstetter had finished with a career-high three tackles.
"He's had so many, but I'd probably say the Missouri game last year, when he flipped Jeremy Maclin," says KU punt returner/defensive back Daymond Patterson.
Then, without a hint of humor or irony, Patterson adds this about the Jayhawks' starting placekicker: "Branstetter, he's one of the more sure tacklers on the team."
• • •
The problem is that his genes betrayed him.
If it weren't for the cruel realities of Branstetter's physical makeup — despite a steady diet of protein shakes and creatine, he struggled to put on weight in high school and is resigned to the fact that he'll probably never reach 200 pounds — he'd be playing safety or receiver or some other position in which he could get his uniform dirty on a regular basis.
This inability to transform himself into a more menacing figure, though, hasn't kept him from trying anyway.
"He put on about 15 pounds in the offseason," Mangino says. "Now he's really cocky."
Indeed, Branstetter possesses a certain innate self-confidence not typically seen in specialists. When Kansas coaches elected to attempt a fourth-down conversion against UTEP last month instead of sending Branstetter out for what would have been around a 50-yard field goal, for instance, he was visibly distraught on the sideline.
"Oh, he was mad," says older brother Jared, who, along with the rest of the Branstetter clan, attends every Kansas game, home or away. "If it was his choice, he'd be out there on the field every play, whether it's back there throwing the ball or catching the ball or (whatever)."
Instead, he uses his limited on-field time (he's also 3-of-5 on field goals this season) to take out his aggression on those players with the gall to try to return one of his kicks for a significant gain.
And this is the charm of Jacob Branstetter: that a player whose position is based almost solely on discipline and precision and restraint, is a guy who plays with more emotion than anyone on the field. A daredevil. A wildman. The Renegade Kicker from Lawton.
Each time he darts downfield, legs churning, full-speed ahead, he's risking disaster. Forget injury. Forget the damage that one blind-side block could do. Without the kicker staying back to act as a safety valve, the likelihood of an opposing player returning a kick for a touchdown — one of the sport's most momentum-swinging feats — grows significantly.
Improbably, Mangino has been lenient with his ball-of-fury kicker up to this point — "I've quit telling him," the coach says, exasperated, "but I hope he doesn't get hurt doing it, because we're really thin at that position" — though that understanding figures to end the first time a returner gets past Branstetter and finds himself with a clear path to paydirt. Especially considering the team's margin for error over the next two months — with games against ranked opponents Oklahoma, Texas, Nebraska and Missouri — will be minuscule.
For his part, Branstetter seems to understand the risk of his tight-rope walk. It's something he has clearly considered before. While there is a certain pride associated with kicking off — a certain power that comes with rendering a talented return man obsolete — there is also a responsibility that comes with the job.
It's just that, well, he can't really help himself.
This was the message he was attempting to relay Tuesday, in a meeting room in the team's football complex.
"We've got to sometimes take those chances," Branstetter said. "... I'm sure (quarterback Todd Reesing) will throw a ball sometimes maybe coach Mangino wishes he wouldn't have thrown. But if he throws it and we score a 50-yard touchdown, he ain't gonna say nothing to him about it — nobody's going to say anything, because Todd's a great athlete, and he's a gunslinger. He makes plays like that. And I have that same mentality when I go in to tackle people. I understand maybe if I miss, he might go for a touchdown ... "
And here, the renegade kicker pauses briefly, breaking into a devil-may-care grin.
"But I haven't missed yet."
• A previous version of this story contained an error.
More like this story on KUsports.com