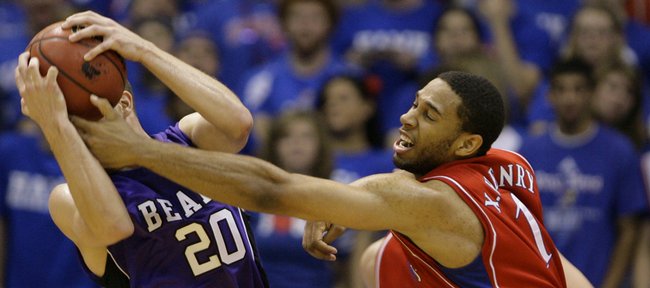 Kansas University's sleep-deprived basketball players didn't nod off in the Jayhawks' brand-new film room Wednesday afternoon.
They were wide-awake watching the highlights — and lowlights — of Tuesday night's narrow two-point victory over Memphis.
"That game was a wake-up call. We learned from it, especially from the tape," said senior guard Sherron Collins.
Collins hopped into bed about 3:30 a.m. Wednesday, after returning from St. Louis, site of Tuesday's nailbiter over the Tigers.
He was up by 8, in class at 9 and ready for practice and horror films by mid-afternoon.
"Offensively, we stunk," Collins said, referring to the Memphis game, not Thursday's 94-44 annihilation of Central Arkansas in Allen Fieldhouse. "We've got to move the ball. Against Memphis it was sticking too much. There was no offensive flow."
There was better flow versus an inferior opponent Thursday. Collins, Xavier Henry, Marcus Morris and Tyrel Reed each scored 12 points on a night big man Cole Aldrich wasn't much of a factor with seven points off 3-of-7 shooting.
"They took Cole out of the game. They double-teamed him the whole game," Collins said. "But overall we played a lot better."
Aldrich, like Collins, played a key role in the bounceback rout two days after KU's 57-55 victory over Memphis.
"Me and Cole talked to 'em," Collins said of their teammates following the Memphis scare. "We said we've got to get everybody on the same page. We've got to play better, more together, share the ball, move the ball. Coach said it wasn't intentional. We just didn't share it. Everybody did tonight."
Coach Bill Self said, looking back on the Memphis game, "It was a good lesson for us that we beat a good team on a neutral floor when we stunk, only because we guarded and rebounded. I take that as a positive coming out of there."
However, on Thursday, "I thought we moved the ball, and we took care of the basketball better. Rebounding stunk," Self said.
The Jayhawks, who were outboarded, 38-36, will pay the price for the inefficient board work, Thomas Robinson (11 rebounds, eight points) noted that the team will have to run 10 "22s" at practice — sprints as punishment.
"It's easy to let up in games like this when we are up early," Robinson said of a game in which KU used a 23-0 run to open a 31-5 lead. "We have to play hard the whole game."
There were several highlight-reel plays versus the Bears, including one by Robinson. He ripped home a two-handed dunk off a Xavier Henry drive and miss.
The ball whacked off the backboard perfectly to a trailing Robinson, making it seem like a pass.
"He called it afterward," Robinson said of Henry claiming it was a dish off the board. "That was off his miss, (but) it was perfect, a perfect pass."
Markieff Morris also had a put-back slam off a Reed miss. Morris finished with eight points and four boards; his brother Marcus had four boards to go with his 12 points. They combined for 20 points off 8-of-9 shooting with eight rebounds, three steals and two blocks.
Self was asked about the twins adding the dunk to their arsenal this season.
"For the twins to be as athletic as they are ... to find that (dunking) as taking energy away from you, making you tired, is sad. That's where they were last year," Self said.
"They were lazy. Let's call it like it is. This year they have more bounce, more energy. They are more confident, not worried about anything other than playing. They look so much more athletic and explosive than they were last year," he added, crediting trainer Andrea Hudy for helping them improve their vertical jumps by four or five inches apiece.
The bottom line is Self appeared to feel much better about his troops Thursday night than late Tuesday after he left Scottrade Center in St. Louis.
"If we're going to have to play a game after getting back at 3:30 or 4 in the morning on Wednesday and the quick turnaround and that game against Memphis was pretty draining, it was probably good that it was a game like this," he said.
Collins agreed.
"We were sound tonight. We played better," he said.
KU, which figures to return to its normal sleep routine, will meet Oakland at 7 p.m. Wednesday in Allen Fieldhouse.
More like this story on KUsports.com